Physical Therapy at Loch Raven — Orthopedic and Hand Center | 21239 | MedStar Health
Welcome to orthopedic and hand therapy at Loch Raven
Conveniently located in the Smyth Building on the campus of MedStar Good Samaritan Hospital, we provide free parking and shuttle services to your vehicle. Our clinic features physical therapy, occupational therapy, and speech-language pathology—all in one location. This comprehensive approach allows us to offer a variety of unique specialties to our patients.
Visiting physical therapy at Loch Raven – Orthopedic and Hand Center
Hours of operation:
Monday: 8 a.m. to 4:30 p.m.
Tuesday: 8 a.m. to 6:30 p.m.
Wednesday:
8 a.m. to 4:30 p.m.
Thursday: 8 a.m. to 6:30 p.m.
Friday: 8 a.m. to 4:30 p.m.
Insurance
We proudly accept most major health plans. The list below serves as a guide and is subject to change. If you are unsure about your coverage, please call your insurance provider. Insurance is collected prior to scheduling services.
Podcasts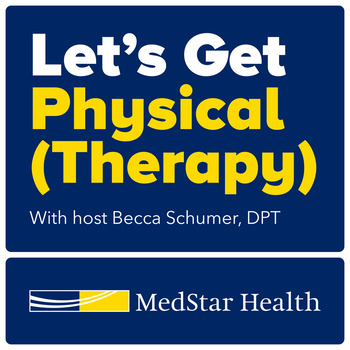 The "Let's Get Physical (Therapy) Podcast," hosted by MedStar Health Physical Therapy, is a new educational podcast series designed for rehabilitation professionals, students, new graduates, and those in related fields. Join us as we discuss treatment options, innovations, techniques, and more with a wide variety of medical professionals.
Al Anglada, PT, Clinic Director

Al Anglada attended the University of Richmond where he received his bachelor's degree in sociology. He also completed his certificate of physical therapy at the University of Medicine and Dentistry of New Jersey. Al specializes in the following rehabilitation areas:

Neurorehabilitation
Orthopedic Injuries and Conditions

Eileen Carden attended Penn State University where she received her bachelor's degree in communication disorders. She also completed her master's degree in speech-language pathology from Loyola College. Eileen is certified in Lee Silverman Voice Training (LSVTTM) and VitalStimⓇ Therapy. Eileen's specialties include:

Brain Injury Recovery
Concussion Management and Care
Dysphagia (Swallowing) Therapy
Neurogenic Speech Disorder Therapy
Parkinson's Disease (LSVTTM)
Stroke Recovery

Stacey McKoy attended the University of Maryland, Baltimore, where she received her master's degree in physical therapy. Stacey is certified in myofascial trigger point therapy and her rehabilitation specialties include:

Dry Needling
Facial Palsy Therapy
Neurorehabilitation
Orthopedic Injuries and Conditions

Jenifer Redinger attended the University of Cincinnati where she received her bachelor's degree in dietetics and her master's degree in nutrition. She continued her education at Old Dominion University, earning her master's degree in physical therapy. Jenifer is a certified lymphedema therapist (CLT). She is also a 200-hour yoga teacher-trained Reiki Master. Jenifer specializes in the following:

Lymphedema Management
Orthopedic Injuries and Conditions
Post-Concussion Therapy

Cara Stewart attended Virginia Commonwealth University where she received her bachelor's degree in occupational therapy. Cara is a certified hand therapist (CHT) and her rehabilitation specialties include:

Carpal Tunnel Syndrome
Certified Hand Therapy
Occupational Therapy
Tendonitis

Beth Tarantula attended The Catholic University of America where she received her bachelor's degree in biomedical engineering. She also completed her doctoral degree in physical therapy from the University of Maryland, Baltimore. Beth is a certified lymphedema specialist (CLT) and an expert in the following:

Fibromyalgia Care
Lymphedema Management
Orthopedic Injuries and conditions
Temporomandibular Joint Disorder (TMJ) Treatment
Vestibular/Balance Rehabilitation