Grants, Foundation Relations, and Grant-funded Initiatives | MedStar Health
At MedStar Health, we are grateful to be the recipient of philanthropic funding from partners in federal, state and local governments, and corporate and private foundations. Grant support is critical to our ability to meet the healthcare needs of our region and to better serve our grateful patients, their families, and our community.
Philanthropic support from grant and foundation partnerships often uplifts patients who face barriers to health care because of a variety of social determinants. With a strategic focus on health equity, inclusion, and diversity, we are proud to be the recipient of philanthropic investments from community organizations that are committed to advancing healthcare in the communities we serve.
Throughout the past year, numerous programs have been expanded and initiatives have been created thanks to the support of our 64 grant partners.
We are truly grateful to each and every partner who has supported MedStar Health through grant funding. Below are a few examples of the transformative care our grant partners are supporting throughout the region.
Care transformation initiatives
FoodRx program: an evidence-based medically-tailored food and nutritional support program for adult patients with Type 2 diabetes, heart failure, or food insecurity. Philanthropic support has helped expand this program throughout central Maryland. Patients who are eligible for the program are provided with ongoing one-on-one care, individualized educational curricula, consultations with a Community Health Advocate and dietitian, as well as healthy food customized for their needs, at no cost.
Community Health Advocate (CHA) program: a program that engages patients with social needs by offering trained health workers, with experience in helping patients understand and manage their own care to help maintain their health. They provide social needs health assessments to help coordinate individualized case management, working with patients and families to build trust and connect patients to social supports including food, transportation, housing, and other basic needs.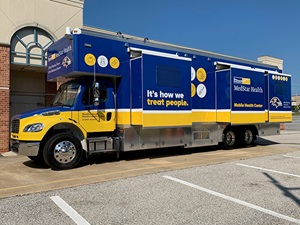 MedStar Health Mobile Health Center: offers a health and wellness clinic on wheels with a unique and powerful purpose—to provide greater access to care and to better meet the needs of the communities we serve. The mobile center strives to remove barriers for access to care, promotes health equity by providing care in the community, and serves those who are without insurance or underinsured and offers financial assistance for individuals in need.
Health and wellness centers for children: continues to expand access to care through the Division of Community Pediatrics and KIDS Mobile Health Clinic, which provides holistic, integrated primary care at designated sites in Washington, D.C.'s Wards 4, 6, and 7. Philanthropic support continues to help provide MedStar Health professionals the opportunity to focus on the prevention, early identification, and treatment of medical and behavioral concerns that may interfere with a student's learning.
Prevent violence in our region. The Safe Streets Hospital Violence Responders program, situated in high-violence areas of Baltimore City, uses evidence-based strategies and help from the local community to prevent violence and reduce shootings and homicides. At MedStar Washington Hospital Center, the Community Violence Intervention program is designed to reduce violent injuries and prevent new injuries and retaliatory violence by providing holistic, culturally competent, trauma-informed care to survivors of violence.
Behavioral health initiatives
Screening, Brief Intervention, Referral to Treatment (SBIRT): supports patients who are screened for substance use disorders when they arrive at Emergency Departments and allows these individuals to receive consultations with a peer recovery coach.
The Early Childhood Innovation Network: offers a comprehensive approach to care by providing interventions aimed at children from birth to age five, as well as their parents and families. These interventions focus on eliminating or decreasing the impacts of stresses on young children and building a strong foundation that will last for a lifetime.
The Center for Wellbeing in School Environments (WISE): aims to reduce mental health and educational disparities in Washington, D.C., by bringing innovative best practices and offering primary services that promote improvements in academic and mental health outcomes to the District's school systems.
Behavioral Health Unit: A renovation at MedStar Southern Maryland Hospital Center includes new treatment areas, examination spaces, a quiet room, and an administrative facility–all creating safer and more therapeutic environments for patients and our associates. It was funded by the Health and Human Services Health Resources and Service Administration and the state of Maryland to care for patients requiring psychiatric medical care.
Preventative health initiatives
Cancer screening prevention program: includes breast, cervical, lung, and colorectal screenings and serves more than a thousand patients annually, many of whom are non-native English speakers, primarily Latino patients. A Community Health Advocate connects patients to additional resources and bilingual support.
Providing HIV/AIDS testing programs and outpatient services. The testing program at MedStar Harbor Hospital reduces disparities in South Baltimore City by offering culturally and linguistically responsive screening, testing, and other services that address barriers and social determinants of health. The outpatient program at MedStar Washington Hospital Center provides comprehensive services from case management and treatment to counseling for those living with HIV/AIDS.
Maternal and infant health initiatives
D.C. Safe Babies Safe Moms initiative: thanks to a transformative philanthropic investment from the A. James & Alice B. Clark Foundation, this initiative brings together experts in the fields of women's health, family medicine, behavioral health, and pediatrics to improve maternal and infant health outcomes in the nation's capital.
The Special Care Nursery at MedStar Harbor Hospital: provides care to level II neonatal intensive care unit (NICU) babies. It's led by a team of on-site neonatologists and has a staff of experienced NICU nurses, who bring specialized expertise in helping the smallest babies thrive.
Healthy Babies Collaborative at MedStar Franklin Square Medical Center: supports mothers, infants, and the families and communities where they are born and raised. The program works collaboratively with community partners to foster knowledge and create supportive and safe home and community environments.
Senior and geriatrics services
Medical house calls program: provides home-based primary care and social services for frail older adults, helping elders remain in their homes with dignity.
Center for Successful Aging: addresses the unique needs of people ages 65 and older who experience multiple medical conditions, geriatric syndromes, and the social needs associated with aging. Philanthropic support enables seniors to receive comprehensive, coordinated care of chronic and complex conditions, all in one convenient location.
Green initiatives
Green infrastructure master plan: an ongoing project enabling MedStar Harbor Hospital to reduce its environmental impact, build community health, and make positive changes for community residents. Philanthropic support helps promote replicable green space efforts across the region, to advance health and environmental equity.
Grants by designation
The below graph depicts the areas grants supported in calendar year 2021.