Brachytherapy | Internal Radiation Therapy | MedStar Health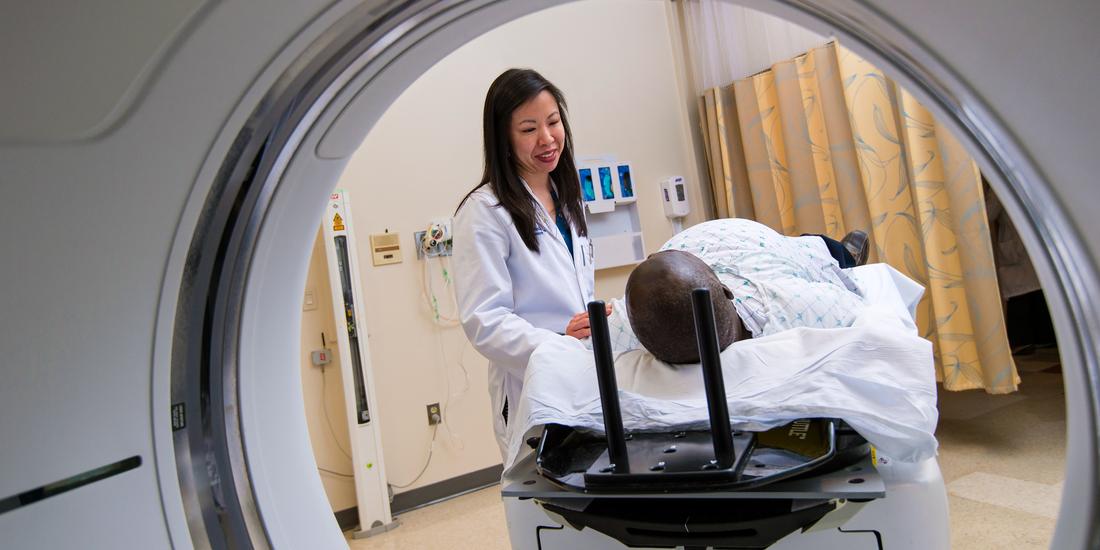 What is brachytherapy?
Also known as internal radiation therapy, brachytherapy is an advanced cancer treatment in which radioactive materials known as seeds or sources are placed directly inside or very near the tumor. This approach delivers a high radiation dose to the tumor while reducing the radiation exposure to adjacent healthy tissues.
At MedStar Health, we offer both low-dose rate (LDR) and high-dose rate (HDR) brachytherapy. Both deliver appropriate doses of ionizing radiation to the treatment area. Brachytherapy is commonly used to treat prostate cancer and breast cancer, among others. Your cancer care team will recommend a treatment approach that will be most effective in treating your cancer.
Advantages of brachytherapy
Because brachytherapy delivers radiation to a limited area inside the body, we can typically use a higher radiation dose than external beam radiation therapy. As a result, brachytherapy can be more effective at destroying cancer cells while sparing healthy tissue in nearby areas.
Types of brachytherapy
Low-dose rate brachytherapy
LDR delivers radiation to your tumor from inside your body. First, your doctor places small radioactive pellets or seeds into the tumor area. Then, the pellets, or seeds, release targeted doses of radiation at precise locations. This type of internal radiotherapy is commonly administered for prostate cancer.
High-dose rate brachytherapy
For high-dose rate (HDR) brachytherapy robotic delivery, a radioactive source attached to a wire is controlled by a robotic machine. The robotic device strategically guides the radiation delivery into the tumor and then removes it after the treatment session.
We routinely deliver HDR brachytherapy in the following ways:
Accelerated partial breast irradiation (APBI) is an advanced method of high-dose radiation used for select breast cancer patients after a partial mastectomy (lumpectomy). It delivers radiation to the area where the tumor was removed and eliminates the need for whole breast radiation. Treatment time is five days (as opposed to six to eight weeks), and because treatment is so targeted, potential side effects to healthy tissue are reduced.
HDR endobronchial brachytherapy involves placing a radioactive source near a non-small cell lung cancer tumor. This treatment is primarily for palliative reasons to improve breathing difficulties and coughing.
HDR gynecologic implants can be placed in and around the cervix, vagina, or uterus, delivering radioactive material directly to the gynecologic tumor.
How brachytherapy works
During brachytherapy treatment, a radiation oncologist implants radioactive material inside or beside the tumor. The radioactive source emits a specific dose of radiation directly to the tumor to kill cancer cells while limiting exposure to nearby healthy tissue.
What to expect
There are different brachytherapy procedures, and your doctor will explain what to expect based on the type that may be best for you, including:
Whether or not you'll need anesthesia
How long you'll need to stay in the hospital
How the radioactive material will be placed in your body
What you can do to prepare for brachytherapy
Any potential risks or side effects
Looking for expert cancer care?
With multiple locations throughout the region, patients have access to many of the nation's renowned cancer specialists offering high quality care, second opinions and a chance for better outcomes close to where they live and work. Georgetown Lombardi Comprehensive Cancer, one of the nation's comprehensive cancer centers designated by the National Cancer Institute (NCI), serves as the research engine allowing patients access to clinical trials that often lead to breakthroughs in cancer care.