Intraoperative Radiation Therapy | Radiation for Breast Cancer | MedStar Health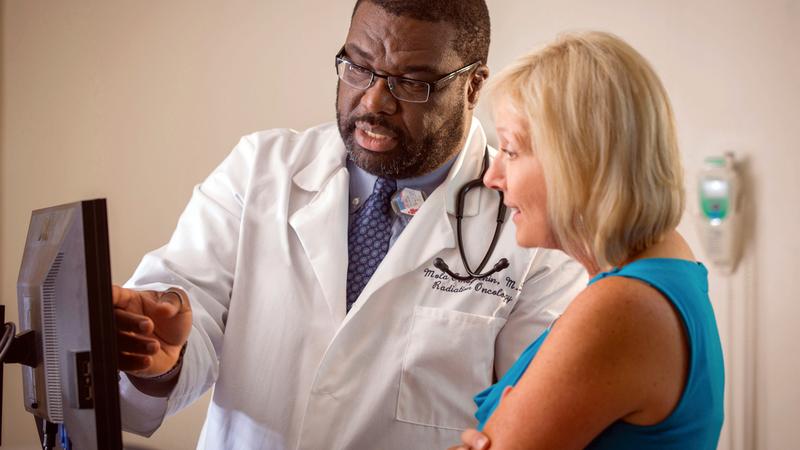 One dose of radiation during lumpectomy
Most women with breast cancer benefit from radiation therapy after surgery, which helps to minimize the risk of cancer recurrence. Now, intraoperative radiation therapy (IORT) allows our radiation oncologists to deliver a single dose of radiation immediately following breast-conserving surgery, like a lumpectomy. For certain women with early-stage breast cancer, IORT may be a faster, simpler, more convenient radiation option than standard radiation therapy while achieving the same successful results.
Most breast cancer recurrences after surgery occur in the same place as the original tumor. With IORT, we can target the precise location of the tumor bed with radiation, allowing us to use a fraction of the dose applied in whole-breast radiation therapy. In addition, because we're only administering radiation in the location where the tumor is likely to recur, we can spare nearby healthy breast tissue and organs from the effects of radiation.
At MedStar Health, we were pioneers in IORT, and we remain one of few in the region to use it to treat breast cancer, pancreatic tumors, and other related tumors.
Advantages of IORT: Convenience and speed
Traditional radiation therapy often involves a commitment to drive to traditional sessions every day for five to six weeks. And while whole breast radiation therapy is necessary and recommended for some patients, it also carries additional risks and side effects.
For many women, IORT offers numerous benefits over external beam radiation therapy, as it:
Is performed minutes after a lumpectomy, eliminating the need for repeat visits after recovery
Is proven to be as effective as mastectomy while sparing the breast and surrounding healthy tissue
Takes just one 30-minute session, as opposed to daily radiation for up to six weeks
Reduces travel time, physical and psychological stress, and time away from work and family
Not every woman with breast cancer is eligible for IORT. Because your treatment options may vary based on your age and the qualities of your tumor, such as its size, type, or stage, it's important to talk to your doctor about your best options.
How it works
IORT is administered in the operating room minutes after a lumpectomy is complete. After the breast surgery team removes the tumor, the radiation oncology team comes in. They position the IORT machine in the appropriate location and calculate the amount of radiation necessary based on guidelines developed after years of clinical trials.
A smooth, round applicator is placed directly into the tumor bed through the surgical incision. We are careful to ensure the applicator is not too close to the skin so that it doesn't cause irritation and redness. The machine is left in place for 20 to 35 minutes to deliver radiation as the patient sleeps. Once it is complete, we remove the applicator and close the incision. There are rarely any unpleasant side effects, and IORT does not require additional recovery time.
Frequently asked questions
Who is a good candidate for IORT?

An ideal candidate for IORT is typically a woman 50 and over with early-stage breast cancer. More specifically, IORT may benefit women whose tumor is three centimeters or smaller, non-lobular, and both estrogen- and progesterone-positive.

At MedStar Health, each patient is evaluated by a team of experts across specialized fields, including surgery and radiation therapy. Together, we'll determine the most effective approach for treating your cancer. We offer numerous types of advanced radiation therapies, each with its own benefits and risks, and we'll guide you through a customized treatment plan based on your unique condition.

Watch: Breast Surgeon Atsuko Okabe, MD, describes eligibility for IORT.

What are the side effects of IORT?

Unlike traditional radiation therapy, side effects from IORT are rare. Any side effects are often related to the surgery itself and undergoing general anesthesia rather than radiation therapy. It is possible to experience redness or skin irritation near the incision site. Your care team will explain all possible risks or side effects before your procedure.
Looking for expert cancer care?
With multiple locations throughout the region, patients have access to many of the nation's renowned cancer specialists offering high quality care, second opinions and a chance for better outcomes close to where they live and work. Georgetown Lombardi Comprehensive Cancer, one of the nation's comprehensive cancer centers designated by the National Cancer Institute (NCI), serves as the research engine allowing patients access to clinical trials that often lead to breakthroughs in cancer care.
Patient stories
78-year-old breast cancer survivor benefits from radiation during surgery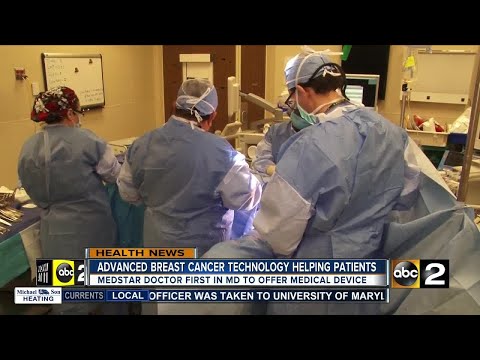 When Maggie Brown was diagnosed with cancer, she sought out Maen Farha, MD, the first physician in Maryland to offer intraoperative radiation therapy during surgery. Watch to learn more about Maggie and her treatment.
Patient resources
Patient guides

Blog articles
Videos