Interventional Radiology for Kidney Disease | MedStar Health
What is interventional radiology for kidney disease?
When you need treatment for kidney failure or chronic kidney disease, you can trust our experienced interventional radiologists to use minimally invasive procedures that help you heal faster and with less pain.
Interventional radiology is a minimally invasive diagnosis and treatment option for patients suffering from renal failure or chronic kidney disease.
As a safer, less painful alternative to surgery, interventional radiologists diagnose and deliver precise treatment via a small tube, or catheter, guided by advanced imaging. Working closely with nephrologists and urologists, our interventional radiology team cares for a variety of kidney conditions, including:
Providing and maintaining venous access for dialysis
Improving surgically placed arterial-venous connections for dialysis
Diagnosing renal failure
Providing access for kidney stone removal
Most interventional radiology procedures for kidney disease require only a small incision the size of a pinhole, which reduces your pain and risk for complication. Compared to traditional surgery, interventional radiology also allows for a quicker recovery, as most procedures can be completed in one day. Many patients are discharged the same day of their procedure or within 24 hours.
Interventional radiology for kidney disease treatments
At MedStar Health, our interventional radiologists work closely with other specialists to help care for patients who are coping with chronic kidney disease and kidney cancer. From kidney biopsies for the diagnosis of cancer to venous access for dialysis patients, we specialize in minimally invasive, image-guided techniques that enable our patients with kidney-related diseases to experience faster recoveries with fewer risks than surgery.
Learn more about the interventional radiology kidney disease treatment options offered at MedStar Health below.
Angiomyolipoma embolization
Angiomyolipoma is a type of benign kidney tumor made up of blood vessels, fat, and muscle. When left untreated, angiomyolipoma may cause life-threatening bleeding. During angiomyolipoma embolization, your interventional radiologist cuts off blood flow to the abnormal tumor, preventing any risks of rupture or bleeding within or outside of the kidney.
Dialysis fistula and graft maintenance
If you are a kidney failure patient undergoing dialysis, your doctor will need to create access to your blood vessel using a fistula or graft that helps to improve blood flow as dialysis removes waste from your body. During dialysis fistula and graft maintenance, our skilled interventional radiologists use advanced imaging to guide treatment that ensures blood clots are dissolved and blood flow is restored.
Kidney tumor ablation
When you have a kidney tumor, ablation therapies, such as radiofrequency ablation and microwave ablation, are effective at destroying cancerous cells using heat. As minimally invasive interventional radiology procedures, ablative therapies result in quicker recovery and fewer risks of complication than traditional surgery.
Nephrostomy tube placement/percutaneous nephrostomy
If the flow of urine from your kidneys to ureters becomes blocked as a result of a blood clot, infection, tumor, or kidney stone, you may benefit from nephrostomy tube placement. During this minimally invasive procedure, your interventional radiologists use a tube to drain the urine from one or both kidneys while your care team treats the underlying cause of the blockage.
Renal artery stenting
During renal artery stenosis, plaque that consists of fats, calcium, and fibrous scar tissue accumulates in the arteries, narrowing the passageway that supplies blood to the kidneys. To prevent hypertension and kidney failure, our interventional radiologists may use renal artery stenting to restore blood flow to the kidneys.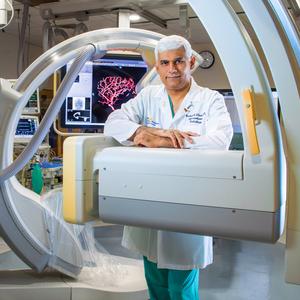 Expert interventional radiology care
Getting the care you need starts with seeing one of our interventional radiologists.