About Our Hospital | MedStar Georgetown University Hospital | MedStar Health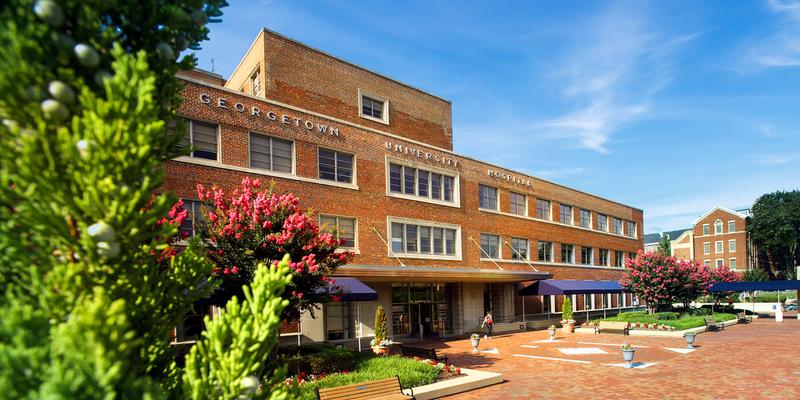 MedStar Georgetown University Hospital is a not-for-profit, acute-care, teaching and research hospital with 609 beds located in Northwest Washington, D.C., Founded in the Jesuit principle of cura personalis—caring for the whole person—we are committed to offering a variety of innovative diagnostic and treatment options within a trusting and compassionate environment.
Our centers of excellence include neurosciences, transplant, cancer, and gastroenterology. Along with Magnet® nurses, internationally recognized physicians, advanced research, and cutting-edge technologies, our healthcare professionals have a reputation for medical excellence and leadership.
Mission, vision, and values
Mission
To provide physical and spiritual comfort to our patients and families in the Jesuit tradition of cura personalis, caring for the whole person.
Since our inception, MedStar Georgetown University Hospital has maintained a rich Catholic and Jesuit tradition of cura personalis—caring for the whole person. Cura Personalis is our mission. It represents our dedication to the physical, psychological, and spiritual well-being of others. This commitment to provide both physical and spiritual comfort is the foundation of our hospital and allows us to provide holistic care for our patients and their families through a compassionate, trusting, and healing environment.
Vision
To be the trusted leader in caring for people and advancing health.
"To be the trusted leader" is a particularly powerful phrase. To be worthy of trust, we must accept responsibility to set the highest possible standard for our performance. Earning and keeping trust obligates us to do our very best every day, in every encounter, with every patient. Earning and granting trust is essential to our mission of providing high quality care: gaining our patients' trust that we will treat them with dignity, skill and kindness; trusting our patients when they describe discomfort or express a need; and trusting one another to work as a team to deliver the best possible care.
The phrase "caring for people" applies to every one of us at MedStar Georgetown, regardless of our job, from those who offer directions to family members lost in a hallway, to those who relieve anxiety by answering billing questions, to those who provide hands-on care to patients. Caring for people also refers to MedStar Health's commitment to us and to our commitment to care for our colleagues and our community.
The phrase "advancing health" reflects our role as a teaching hospital and speaks to the wealth of roles we play as we promote the health of our community. It touches on the work we do to make and keep patients well, of course, but also includes our role as an academic medical center. In that capacity, "advancing health" means teaching and training the next generation of physicians, nurses and healthcare providers, and also developing innovative and life-enhancing treatments through our clinical research.
Values
Our value statements describe the behaviors that are necessary for us to be successful in achieving our vision. Our values, like the vision statement, are common across the MedStar Health system:
Service
We strive to anticipate and meet the needs of our patients, physicians, and co-workers.

Patient first
We strive to deliver the best to every patient every day. The patient is the first priority in everything we do.

Integrity
We communicate openly and honestly, build trust, and conduct ourselves according to the highest ethical standards.

Respect
We treat each individual, those we serve, and those with whom we work, with the highest professionalism and dignity

Innovation
We embrace change and work to improve all we do in a fiscally responsible manner.

Teamwork
System effectiveness is built on the collective strength and cultural diversity of everyone, working with open communication and mutual respect.
Our hospital follows the Ethical and Religious Directives for Catholic Health Care Services as outlined by the United States Conference of Catholic Bishops. The Directives can be found on the website of the United States Conference of Catholic Bishops.
Excellence in nursing
In 2004, MedStar Georgetown University Hospital became the first hospital in Washington, D.C., to achieve Magnet® Recognition, a prestigious status granted by the American Nurses Credentialing Center for excellence in nursing care. We have been re-designated for magnet status three times since that time in 2008, 2013, and 2018.
This designation represents outstanding commitment and dedication to our patients from our world-class nursing staff. MedStar Georgetown and our exceptional nursing team is part of an elite group that represents fewer than eight percent of hospitals nationwide to have received this designation.
Building medical excellence
MedStar Georgetown University Hospital is embarking on a critical and exciting path to advance healthcare delivery with the construction of a new, state-of-the-art Medical/Surgical Pavilion that will transform the way care is delivered. This world-class facility will meet patient needs today, tomorrow, and well into the future and allow us to expand on our specialty services for complex diseases with therapies and discoveries not possible at other area hospitals.
The pavilion design reflects thoughtful guidance from our providers and community members, creating a soothing environment that will accelerate healing and hope, while reducing patient anxiety. As we strive to always deliver the best experience to our patients, their families, and visitors, the Medical/Surgical Pavilion will enable us to continue to be the trusted leader in caring for people and advancing health.
The Medical/Surgical Pavilion will offer:
156 private patient rooms

31 state-of-the-art operating rooms

32 private rooms in a new Emergency Department

3 levels of underground patient parking

A rooftop helipad
This is truly a transformational project that will bring a world-class facility to match the world-class care we already provide in an open and welcoming environment for patients and their families. Learn more about the Medical/Surgical Pavilion.
Leadership
Meet our leadership team.
Awards and recognition
MedStar Georgetown University Hospital has been recognized for high performance and excellence by many publications and commissions and has received various awards and honors for our specialty work and commitment to patient care and community.
Community health
At MedStar Georgetown University Hospital, we recognize that a person's health is strongly linked to the health of the community. Based on our community health needs assessment conducted at MedStar Georgetown, we have developed programs and services to address these priority areas.