Patient Experience | MedStar Georgetown University Hospital | MedStar Health
What to expect at MedStar Georgetown University Hospital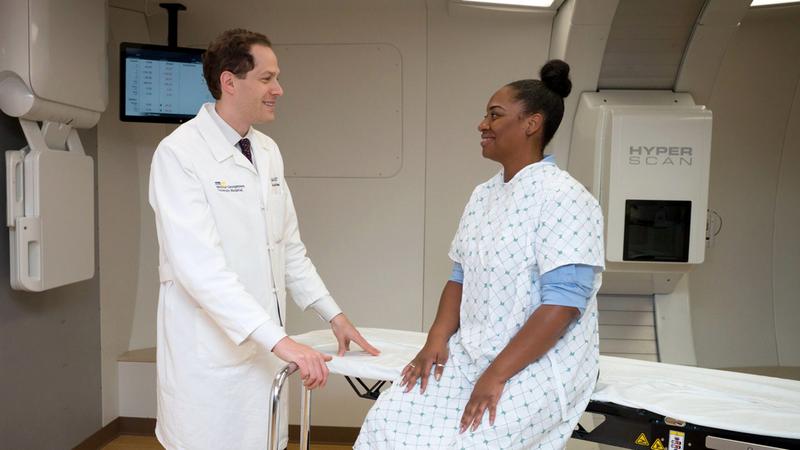 Thank you for choosing our hospital for your healthcare needs. At MedStar Georgetown, we maintain a rich Jesuit tradition of cura personalis–care of the whole person. This is our commitment to the physical, psychological, and spiritual well-being of others. We are dedicated to focusing on the full needs of our patients and their families that go beyond immediate healthcare needs by providing the comfort our patients need to heal.
Before you arrive
Your pre-admission checklist
A member of the admissions team will contact you to let you know what time you should arrive.
Here are several things to do before you are admitted:
Be sure to bring a government-issued ID and all your insurance information and cards

Bring with you additional pertinent documents such as Advance Directive, Living Will, and Power of Attorney

Get pre-admission tests

Be sure that copies of X-rays, blood work, or other tests taken at other facilities are given to your doctor or nurse. Your health coverage may require that you have your outpatient and pre-admission radiology and/or laboratory services performed at another facility. Contact your insurance company for details.

Name your doctors

The doctor who admitted you to the hospital is your primary care physician and should be identified as such for all insurance purposes. Be sure to tell our admissions office the name and contact information of your other doctors (for example, internist, pediatrician, gynecologist) so we can communicate with them as necessary.

Sign agreements

You will be asked to sign an agreement regarding treatment consent and financial responsibility for expenses for which you are responsible, including services not covered by your insurers. Please read it carefully.
Pre-registration
Pre-registration may be available for some scheduled appointments or procedures. It allows us to make better use of patients' time when they arrive for scheduled services.
A member of the Patient Financial Services Department will verify the demographic information in addition to review your insurance information and to discuss financial arrangements.
You may reach the Patient Financial Services Department at 410-933-8200 or toll-free at 866-423-2734
Medications and allergies
Upon admission, you will be asked to list all the medications you are taking, the date and last time your medications were taken, as well as the doses prescribed, including prescription drugs, over-the-counter drugs, diet supplements, herbals, and/or vitamins.
Your practitioner and healthcare team need this information because even the most common drugs can cause complications when taken with other medications or treatments.
It is also essential to inform your healthcare professionals about any allergies or adverse reactions to foods, drinks, medications, or sensitivity to latex.
During your stay
Test and diagnostic procedures
During your inpatient stay, you may be asked to undergo various tests. Due to the nature of certain tests, you may be asked not to eat or drink during particular time periods. For other tests, you may be asked to undergo special preparations or drink specific liquids prior to the test being performed. Some tests may even take longer than one day to complete. Following all the instructions will help to ensure the accuracy and reliability of the test results. Regardless of what tests you may have, we will fully explain each one to you and inform you of any special preparations or restrictions required.
Personal items and identification bracelets
To secure personal items such as dentures, eyeglasses, or mobile devices, do not keep them on your bed. It's best to store them in your plastic bag or bedside table for safekeeping.
Please remember to wear your identification bracelet and/or other hospital-issued bracelets during your entire stay. If you receive a color bracelet, keep that on as well.
Wi-Fi
We are pleased to offer quick and easy Wi-Fi access for your convenience. Simply select "MedStarGuest" as your Wi-Fi resource and connect by accepting the Acceptable Use Policy.
Wheelchairs
Wheelchairs are available at the concierge desk located in 1st Floor Main Building and West Wing Circle Patient Drop-Off Location.
If you need assistance, please call 202-444-3028, Monday – Friday 8 a.m. – 4 p.m.
Infection prevention
Our Infection Prevention program is doing everything possible to prevent the spread of infections among patients, healthcare workers, and visitors. The best way to do this is through hand washing with soap and water for 20 seconds or by rubbing your hands with an alcohol-based hand sanitizer.
You should wash your hands:
After using the toilet, blowing your nose, or sneezing

After handling dirty items

Before and after eating, drinking, or handling food

When your hands look dirty
Everyone should wash or sanitize their hands before entering and after exiting your room.
Nutrition services
Patient Meals
MedStar Georgetown University Hospital Food and Nutrition Services Department is dedicated to providing high quality, satisfying, and nutritious meals to all patients and visitors. Excellent nutritional care is essential to your speedy recovery. Your specific diet is ordered by your physician and depends on your medical condition. Our registered and licensed dietitians are available to evaluate your nutritional needs and provide nutrition counseling to individual patients.
Your Food and Nutrition associates will take your orders for each meal period and deliver patient meals to your room.
We also offer a limited late-night menu for newly admitted patients and those with changes to their diet orders from 7 to 3:00 a.m. Kosher meals are available upon request, and nourishments and snacks such as graham crackers etc. are also available, just ask your nurse.
Guest Meals
Guest meals are available for breakfast, 8 to 9:30 a.m., lunch, 11:30 a.m. to 1:30 p.m., and dinner, 4:30 p.m. to 6 p.m.
We also offer meal trays for up to one guest of Pediatrics patients. Meal trays will be delivered to the patient room.

To order your meals, please call 202-444-6424. Prepayment is required for all guest meals. To pay for guest meals please proceed to the cashier's window on the 1st floor of the Main Building (hours of operation: 8:30 a.m. to 4:30 p.m.).
Preparing for surgery
Surgery patients
If you are having surgery, please enter through Main lobby where you will undergo COVID-19 screening. You will then be directed to the Surgery Center located on the ground floor of the CCC building and a nurse or concierge will assist you. Arrive at least two hours before your scheduled surgery or appointment time.
Currently, there are visitor restrictions in place due to COVID-19. Please see the visitor policy for more details and check back often as visitor restrictions can change in response to COVID conditions.
Please only bring essential items with you on the day of surgery (ID, insurance cards, co-pay, eyeglasses, etc.). These items will be securely stored during your procedure and returned to you afterward. Please leave all large items, luggage, and any valuables at home.
Preoperative testing and surgery instructions
Once your surgery is scheduled, you will receive a phone call from a nurse in the Pre-Anesthesia Testing department. The nurse will review your medical history, allergies, medications that you can take the day of surgery, and pre-surgery instructions as well as evaluate the need to be seen in the Pre-Anesthesia Testing department.
If indicated during the phone call, the nurse will schedule this appointment. Please be assured all patients are contacted with enough time to have all pre-anesthesia testing completed.
Please note that depending on your medical history, you may be asked to see your primary care provider or other specialist in addition to being seen in the Pre-Anesthesia Testing department at the request of your surgeon or anesthesia team.
If any testing was completed at another facility, it is your responsibility to make sure that all results are forwarded to the Pre-Anesthesia Testing department no later than seven days prior to your surgery. They can be faxed directly to 202-444-4208.

Please call Pre-Anesthesia Testing at 202-444-2746 with questions about pre-operative testing. Our fax number is 202-444-4208. Questions related to pre-operative COVID-19 testing may be directed to the Call Center at 855-416-5244.
Pre-op and post-op resources
Valet parking for surgery patients
Valet parking is available for patients for their pre-surgical testing visit and the day of surgery. The valet parking is in the patients and patients visitors Garage 1 located within Entrance 2.
With this validation, you will be able to park at a reduced rate: $3/first hour, $5/second hour, and third hour daily maximum for the day of $7.
Your healthcare team
MedStar Georgetown is a world-renowned academic medical center, committed to providing the safest, most high-quality patient care available. To do this, we use the skills and expertise of a large healthcare team, and at the same time, educate the next generation of clinicians. We encourage and depend on our patients and families to actively contribute to the process of planning and delivering care. Working together, we can offer excellent, customized patient care.
After your stay
Discharge
Your doctor will tell you when you will likely be discharged. A timely discharge is as important as a timely admission, in order to speed your recovery in the familiar surroundings of your home. The actual time of departure often depends on laboratory or radiology test results and an assessment of your physical status by your doctors. We are very sensitive to the inconvenience that this may cause, and we will make every effort to keep you informed on the progress of your hospital discharge.
After your physician has written your discharge orders, the nurse will review your discharge instructions with you and provide any prescriptions ordered by your physician. When the nurse is reviewing your discharge instructions it would be helpful to have a family member or friend available by phone (or in person depending on the visitor policy) so that they may be included in the teaching. Be sure you understand these instructions and have contact names and phone numbers in the event you have questions or need to make follow-up appointments.
We ask your assistance in arranging transportation home, such as a ride home. We will assist you with these arrangements as needed.
The outpatient pharmacy is located on the ground floor of the Pasquerilla Healthcare Center (PHC). The outpatient pharmacy is open Monday to Friday, 9 a.m. to 6 p.m. and
Saturday 9 a.m. to 2 p.m. Phone: 202-444-3772.
Need more care?
After your stay at MedStar Georgetown, you may need additional follow-up care to help you reach your full potential for recovery and independence. If so, consider the following options:
Thanks for saying thanks
Patients and families frequently ask how they can best express their gratitude for the compassionate care they receive at our hospital. Staff members are not permitted to accept tips or gratuities, and gifts are discouraged. To express your gratitude, we invite you to:
Mention a staff member by name in a letter to our hospital president.
c/o Main Administration
MedStar Georgetown University Hospital
3800 Reservoir Rd.
NW Washington, D.C., 20007

Make a tax-deductible contribution to MedStar Georgetown University Hospital.

Share your experience or honor a caregiver by clicking here

For questions or to learn more about philanthropic opportunities contact the philanthropy office at 202-444-0721.