Physical Therapy at Lafayette Centre | PT, OT & Sports-Related Injuries | 20036 | MedStar Health
Welcome to physical therapy at Lafayette Centre
We are located inside MedStar Health Orthopedic and Sports Center on 20th Street, home of the team therapists for many of DC's professional sports teams. At Lafayette Centre, we are committed to getting you back into action, regardless of age or level of play. From concussion and sports-related injuries to neck and spine pain, you can count on us to help you resume an active lifestyle.
Hours of operation:
Monday to Thursday:
6 a.m. to 6 p.m.
Friday: 6 a.m. to 4:30 p.m.
Navigating Lafayette Centre

Parking for Building 2 is available at the Lafayette Centre garage.

1133 21st St., NW
Washington, D.C., 20036

Use the 21st Street parking garage entrance.

Tips for easier parking:

Reserved parking spots for MedStar Health patients are available for up to 3 hours. You will find these on B Level if you've entered the garage on 21st Street. If those spots are full, there are also general visitor spots available for 3-hour parking.
Get a parking validation ticket from your provider's office to ensure you get the reduced parking rate.
Pay at the garage exit or via a pay machine. Pay machines are located on B level. All pay machines accept credit or debit cards only.

For more information about parking at Lafayette Center, please click here and watch the video below.

From Northern Virginia
Take 66 East and take the E Street Exit
Turn Left onto 20th St. NW

From South Eastern Maryland
Take the Baltimore-Washington Pkwy in Greenbelt
Merge onto US-50 West/New York Ave NE to Rhode Island Avenue NW
Turn right onto M St NW and turn right onto 20th St. NW

From Bethesda / Chevy Chase
Take MD-355 South/Wisconsin Avenue toward Massachusetts Avenue
Turn right onto 21st St. NW

Red Line

Dupont Circle Metro Station (0.17 miles)
Farragut North Metro Station (0.39 miles)

Orange, Silver, Blue

Farragut West Metro Station (0.49 miles)
Foggy Bottom—GWU (0.30 miles)

MetroExtra Route (S9)
Metrobus Local Route (blue) L1, L2, D2, D6, G2, N2, N4, N3, N6
Metrobus Major Route (red) 30N, 30S, 31, 33, 36, 38B, 42, 43,
Metrobus Commuter Route (silver) H1

Ronald Reagan Washington National Airport – DCA: 5.5 miles.
Washington Dulles International Airport – IAD: 25 miles.
Baltimore/Washington International Thurgood Marshall Airport – BWI: 36 miles.

Discounted room rates are available for patients and families at these nearby hotels. (Please note that rates do not include tax and are subject to change without notice.)

AC Hotel Washington DC Downtown

Other nearby hotel options:
Insurance
We proudly accept most major health plans. The list below serves as a guide and is subject to change. If you are unsure about your coverage, please call your insurance provider. Insurance is collected prior to scheduling services.
Podcasts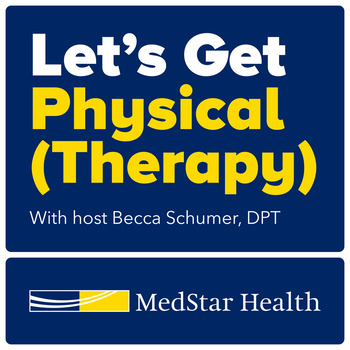 The "Let's Get Physical (Therapy) Podcast," hosted by MedStar Health Physical Therapy, is a new educational podcast series designed for rehabilitation professionals, students, new graduates, and those in related fields. Join us as we discuss treatment options, innovations, techniques, and more with a wide variety of medical professionals.
Bryan Baker, PT, DPT, Clinic Director

Bryan Baker received his bachelor's degree in health sciences/pre-physical therapy from Springfield College. He went on to complete his doctoral degree in physical therapy from Springfield College. In 2022, Bryan completed Texas Health Sports Medicine's sports residency program in combination with Texas Christian University (TCU) before joining MedStar at the Lafayette Center. Bryan's rehabilitation specialties include:

Sports Rehabilitation & Return-to-Play Programming
Sports Performance (Baseball, Football, Basketball, Soccer, Tennis, Golf)
ACL Rehabilitation & Return-to-Play Testing
Overhead Athlete Care
Concussion Management and Care
Dry Needling
Titleist Performance Institute Certified Golf Rehabilitation

Miriam Bovich, PT, DPT, SCS

Miriam Bovich received a bachelor's degree in biology and health sciences from Duquesne University. She then went on to complete a doctoral degree in physical therapy. In 2017, Miriam completed the MedStar Sports Medicine Residency program. Miriam specializes in the following:

ACL Return-to-Play Testing
Concussion Management and Care
Dry Needling
Knee, Foot, and Ankle Therapy
Neck Pain and Lower Back Pain
Orthopedic Injuries and Conditions
Running Injury Care

Kala Flagg, PT, DPT, ATC, CSCS Program Specialist

Kala Flagg received her bachelor's degree in health sciences and pre-physical therapy from Howard University. She continued on to receive her master's and Doctor of Physical Therapy from Howard University. Along the way, she also obtained certifications in athletic training and strength and conditioning specialist.

Kala's rehabilitation specialties include:

ACL injury prevention and return-to-play

Athlete performance education

Dance injury rehabilitation and prevention

Dry needling

Pre-participation injury risk assessments

Sports concussion management

Sports injury and return-to-play programming

Jared Miller, PT, DPT, CSCS

Jared Miller received his bachelor's degree in psychology-sociology from the University of Massachusetts, Boston. He continued his studies to earn his doctoral degree in physical therapy from the University of Miami. Jared is bilingual in English and Spanish. His rehabilitation specialties include:

MedStar ACL Rehab Certified Specialist
Basketball Injuries
Young Athletes
Crossfit Athletes

Lance Kelly, PT, MPT, ATC

Lance Kelly attended the University of North Carolina at Chapel Hill where he received a bachelor's degree in both physical education and exercise and sports science. In addition, Lance has a master's degree in physical therapy from Shenandoah University. He is a certified athletic trainer and his rehabilitation specialties include:

ACL Return-to-Play Testing
Golf Enhancement Program
Knee, Foot, and Ankle Therapy
Neck Pain and Lower Back Pain
Orthopedic Injuries and Conditions
Performance Enhancement
Running Injury Care

Gregory Lloyd, PT, DPT, SCS

Gregory Lloyd has a bachelor's degree from Skidmore College as well as a doctoral degree in physical therapy from The State University of New York (SUNY) Upstate Medical University. He specializes in the following physical therapy areas:

ACL Return-to-Play Testing
Concussion Management and Care
Golf Performance Enhancement
Knee, Foot, and Ankle Therapy
Orthopedic Injuries and Conditions

Thomas Willauer, PT, DPT, OCS

Thomas Willauer attended North Carolina at Chapel Hill where he received a bachelor's degree in exercise sports science. He also earned a doctoral degree in physical therapy from Elon University. His rehabilitation specialties include:

ACL Return-to-Play Testing
Knee, Foot, and Ankle Therapy
Neck Pain and Lower Back Pain
Orthopedic Injuries and Conditions
Performance Enhancement Program
Running Injury Care

Brian Colella obtained a bachelor's degree in Public Health from Rutgers University before moving on to a Doctorate in Physical Therapy at Arcadia University. He specializes in the following physical therapy areas:

ACL Rehab & Return to Sport
Sports Performance (Climbing, Action Sports, Soccer, and Running)
Hip, Knee, Shoulder and Ankle Therapy
Orthopedic Injuries and Conditions

Ryan Regner has a bachelor's degree in Kinesiology from University of Maryland College Park as well as an associate of science degree as a physical therapist assistant from the Montgomery College Health Sciences Department. He specializes in the following physical therapy areas:

Sports Performance (Volleyball and Basketball)
Knee, Hip, and Shoulder Therapy
Orthopedic Injuries and Conditions

Chris Brandt, PTA, ATC, CSCS

Chris Brandt received a bachelor's degree in athletic training and sports medicine from Quinnipiac University. Chris also completed a physical therapy assistant program at Kent State. He is a certified athletic trainer and his rehabilitation specialties include:

ACL Return-to-Play Testing
Knee, Foot, and Ankle Therapy
Neck Pain and Lower Back Pain
Orthopedic Injuries and Conditions
Performance Enhancement

Emma Regenbaum, PT, DPT, FDN

Emma Regenbaum received her bachelor's degree in Applied Physiology and Kinesiology from University of Florida. Emma completed her Doctorate degree in physical therapy from University of Florida. Her rehabilitation specialties include:

Orthopedic and Sports Injuries and Conditions
Shoulder, Hip, and Knee Therapy
Sports Performance (Baseball/Softball, Volleyball)
Pelvic Floor Therapy
Functional Dry Needling