Skin Cancer Prevention & Screening | MedStar Health
In the United States, more than 3.5 million cases of skin cancer and melanoma are diagnosed each year, and more than 90 percent of cases are caused by the sun's ultraviolet rays. It can be preventable by avoiding risk factors that cause the disease. Fortunately for patients who are diagnosed, it's curable, especially if it's discovered during the early stages.
Schedule an appointment with your MedStar doctor or melanoma specialist if you have signs or risk factors. Our specialists at MedStar Health's Baltimore Cancer Network are trained in the latest skin cancer treatment options and will provide you with quality, comprehensive care.
Prevention
Most skin cancers are avoidable by circumventing risk factors that cause the disease. You can reduce your risks by avoiding the sun during the middle of the day, wearing sunscreen year-round, wearing protective clothing, avoiding tanning beds and medications that make you more sensitive to the sun, and checking your skin regularly for signs.
To protect your skin from cancer and the ever-increasing radiation from the sun's rays, just remember these four steps:
SLIP — Slip on a comfortable shirt that is tightly woven.
SLOP — Slop on the sunscreen with an SPF of at least 15 and apply it every 15-20 minutes (even if it says waterproof).
SLAP — Slap on a wide brimmed hat to protect your face, neck, and ears.
WRAP — Wrap sunglasses around your eyes, some of the most sun sensitive organs of your body.
Which sunscreen is best for you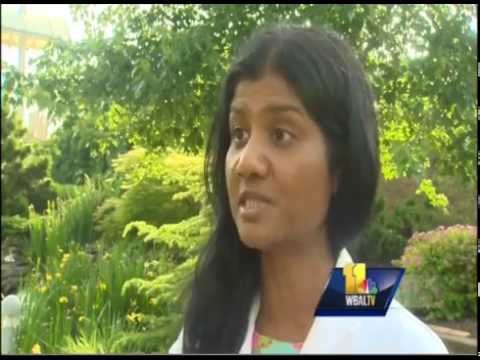 Screening
One of the best ways to detect possible skin cancer and melanoma is to know your body and skin so you can spot any changes in your skin or moles. You can do this by doing a monthly self-exam. If you find any changes to your skin, such as growths or moles that have changed in size, shape, or color, contact your MedStar melanoma specialist right away.
Perform a self-exam by...
Looking at the front and back of your body in a full-length mirror, if possible.
Looking at your sides with your arms raised.
Bend your elbows and look at your forearms and upper arms. Don't forget to look at your hands.
Sit down and look at the front and back of your legs and feet. Remember to look between your toes and on the bottom of your feet.
Check the back of your neck and your scalp. Try using a handheld mirror for a better look.
Perform the skin cancer self-exam regularly and you'll know what is normal and when to call your MedStar doctor if you see any changes in your moles or skin.
The "ABCDE" rule can help you remember these warning signs. Pay attention to:
Asymmetry: The shape of one half of the mole does not match the other.
Border: The edges are ragged, notched, or blurred.
Color: The color is often uneven with shades of black, brown, and tan. You may also see areas of white, gray, red, or blue.
Diameter: The diameter is usually larger than six millimeters (mm) (the size of a pencil eraser) or has grown in size.
Evolving: The mole has been changing in size, shape, color, appearance, or growing in an area of previously normal skin. Also, when melanoma develops in an existing mole, the texture of the mole may change and become hard, lumpy, or scaly. Although the skin may feel different and may itch, ooze, or bleed, melanoma usually does not cause pain.
Additionally, people at high risk for should have their skin examined once a year by a dermatologist. Anyone of any skin tone can develop skin cancer.
Expert oncology care
Getting the care you need starts with seeing one of our oncologists.