Skin Cancer Treatment | MedStar Health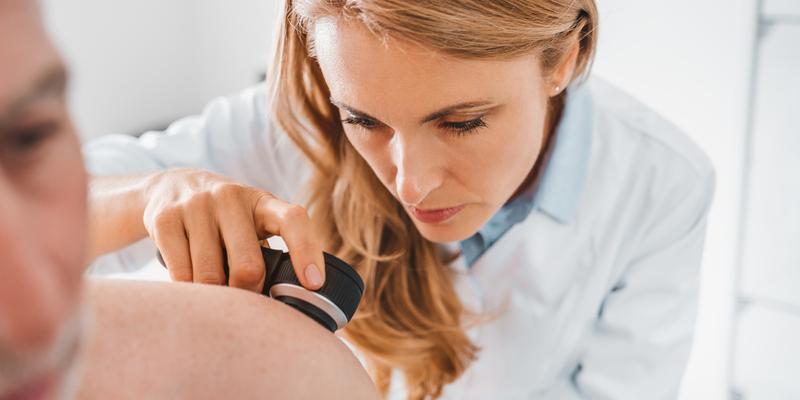 With decades of combined experience, our skin cancer specialists are skilled at diagnosing and treating both common and complex skin cancers. Our research engine is the Georgetown Lombardi Comprehensive Cancer Center, the only of its kind in the Washington, D.C., region. This partnership allows us to participate in and lead cutting-edge investigations and clinical trials, which we offer to our patients whenever possible. As a result, you can rest assured you're receiving the most advanced skin cancer treatment available today, including treatment options for melanoma that may not be available elsewhere.
Our approach
If you're diagnosed with skin cancer or seeking a second opinion, you can count on our experienced experts to guide you through your options. Here, we work collaboratively and quickly to diagnose your skin tumor and move to the treatment phase. By involving all of the right doctors from the beginning, you can expect an accurate diagnosis and treatment plan that is personalized and comprehensive, considering all of your best options. This leads to the best possible outcomes in both removing your cancer, preserving your natural appearance, and minimizing the chances of recurrence. Your care may involve several specialists, including:
Dermatologists

Dermatopathologists (doctors with training in pathology and dermatology)

Surgical oncologists

Medical oncologists

Radiation oncologists

Head and neck specialists

Plastic and reconstructive surgeons

And others
We offer all of the standard treatments for skin cancer, as well as innovative options that may not be widely available elsewhere. Depending on your skin cancer type, stage, size, and location, your treatment options may include:
Skin cancer prevention and screening
Too much ultraviolet radiation (UV) exposure is the leading cause of nearly all types of skin cancer. That's why we believe it's so important to provide education about skin cancer prevention. To minimize your risk of developing melanoma or other skin cancers, you should:
Always wear sunscreen with a sun protection factor (SPF) of at least 30 and reapply every two hours

Seek shade when possible, especially between 10 a.m. and 2 p.m.

Wear clothing, hats, and sunglasses that offer sun protection

Regularly examine your skin for unusual or changing bumps, freckles, and marks

Talk to a dermatologist about skin exams if you have a high risk of cancer
Looking for expert cancer care?
With multiple locations throughout the region, patients have access to many of the nation's renowned cancer specialists offering high quality care, second opinions and a chance for better outcomes close to where they live and work. Georgetown Lombardi Comprehensive Cancer Center, one of the nation's comprehensive cancer centers designated by the National Cancer Institute (NCI), serves as the research engine allowing patients access to clinical trials that often lead to breakthroughs in cancer care.
Patient resources
Blog articles

Videos