Telehealth and Beyond: Innovative Digital Health Services Improve Patient Care.
If you are experiencing a medical emergency, please call 911 or seek care at an emergency room.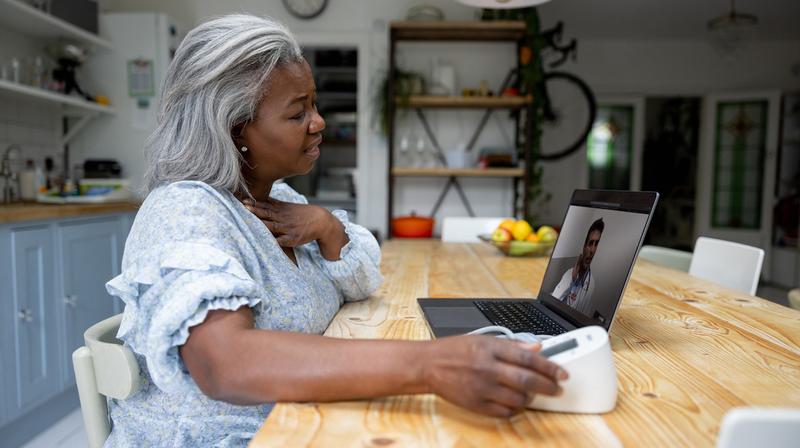 Before COVID-19, accessing healthcare services almost always involved a trip to the doctor's office or hospital: Taking time off work, arranging for a ride, getting someone to watch the kids. Less than half of U.S. health centers had telehealth then, but during the pandemic, 95% of U.S. health centers adopted it to maintain continuity of care for patients.
The "new normal" of periodic COVID-19 outbreaks has meant that many activities like school and work have gone back to being in person. With this shift, many patients may be wondering if telehealth will be less available as a care option.
At MedStar Health, we're doing just the opposite. Our commitment to telehealth continues to move forward, not back. System-wide, our providers are embracing digital health solutions, like video visits, to supplement the patient-provider experiences in our clinics and hospitals to ensure patients can get the best care at the best time in the most convenient location for them.
We know that a video visit may not prevent a trip to the emergency department, and a text message can't replace that high-five from your nurse or a doctor holding your mother's hand. But telehealth options can make it easier for you to get the best care and guidance through a care journey from a team you already know and trust.
Related reading: New Research Examines the Telehealth Experience in Cancer Survivorship Care.
Digital health solutions to expand your care.
Virtual visits.
Telehealth is a convenient way to receive non-emergency care through online video or audio-only visits. During the pandemic, patients reported high levels of satisfaction with video visits. Scheduled video or audio-only visits are a convenient way to keep your appointment with your doctor for well visits, routine check-ins, and follow-up appointments. Talk with your doctor to see if a telehealth visit is right for you. At MedStar Health, we're committed to creating a convenient and easy online care experience for patients with the same level of quality you expect from our team.
Urgent care on demand.
For non-emergency but still immediate concerns, MedStar eVisit offers on-demand, video urgent care. You can call 24 hours per day, seven days a week, and you will be quickly connected with a MedStar Health provider ready to help you navigate to the best next step. Sometimes, in-person care is needed right away; the MedStar eVisit team can guide you on when and where to go or refer you to specialist care if needed. When a video visit is appropriate, MedStar eVisit is best for conditions like a cold or the flu, allergies, pink eye, rashes, minor cuts, known urinary tract or yeast infection, or a flare-up of gout.
Family involvement, from afar.
If a loved one is admitted to one of our hospitals, the Telehealth Technology Coordinator program can bring together your family members in an online video or audio visit. That way everyone can come together in their care, even if you can't all be physically in the same room.
Remote patient monitoring.
Patients with chronic diseases like high blood pressure often have to return to the doctors' office every few months to have their blood pressure checked. With remote patient monitoring (RPM), that same patient may now be able to:

Take a blood pressure cuff home so they can check each day

Share data with the care team through a secure connection

Get smartphone reminders to check their blood pressure

Receive automated feedback when blood pressure readings are too high
Remote patient monitoring expands the care team's ability to collect patient data and engage with you and adjust your treatment in real time while you manage your health from home. RPM is available for patients who participate in
MedStar Health Home Care
programs and patients with:


Text-based, personalized follow-up.
Text messaging and artificial intelligence (AI)-powered chatbots can provide answers to common clinical questions. There's always a provider on the other side of the keyboard to give more complex solutions via text messaging or phone call.

This solution keeps you in close contact with your care team after you leave the hospital or clinic. It's a real-time, less intrusive way to check in with follow-up questions, reminders, and self-care education you can use at home.
Related reading: MedStar Health Awarded Additional $2 Million Grant to Expand Research on National Telehealth Access, Safety, and Health Equity
Telehealth designed for everyone.
Equity and accessibility are always on our mind—technologies only work if our patients can easily use them. Our tools have all been thoughtfully designed, with features such as:

Minimal clicks to get what you need

No extra downloads of confusing programs

No password to remember, and the system is still secure

Embedded language interpretation in dozens of languages, including American Sign Language

Optimized platforms to work with minimal bandwidth
Telehealth and digital care services at MedStar Health are all about you. Health care is most effective when you use the right tool at the right time, and we're committed to making sure you have access to what you need to get more convenient health care.
Talk with your doctor about what telehealth services might be right for you.
Whether that means having your next visit over online video or taking a blood pressure cuff home, there are opportunities to make a deeper connection with your care and stay in contact with our experts.
Interested in the telehealth services offered at MedStar Health?
Click below to learn more.
Stay up to date and subscribe to our blog