About the MedStar Institute for Innovation | MedStar Institute for Innovation | MedStar Health
Overview
Chartered in 2009 by MedStar Health President and CEO Kenneth A. Samet, FACHE, the MedStar Institute for Innovation has fueled dynamic change and impact across MedStar Health and beyond for more than a decade. With innovation serving as one of MedStar Health's values, our team tackles some of the most significant opportunities and challenges in health innovation.
Our innovation approach is centered on an explore, build, and scale model. Our team zeroes in on MedStar Health's greatest innovation priorities and possibilities—and then pursues and implements solutions.
Explore
Understand ideas, challenges, and solutions, grounded within the context of MedStar Health
Build
Prototype novel ideas and solutions to generate learning, evaluate efficacy, and demonstrate value
Scale
Launch ideas and solutions within and beyond the system to deliver sustained business value from innovation
Our Structure
Our operating framework, innovation approach, dedicated team, and innovation culture make our work—and progress—possible.
Our operating framework for serving MedStar Health is comprised of four main components:
Innovation Labs

Innovation Incubator

Operations and Innovation at Scale

Innovation Initiatives
Additionally, our MedStar Institute for Innovation Administration and Operations team advances priority initiatives and manages human resources, finances, communications, and other needs essential to our team's success. This includes efforts to enhance our systemwide internal innovation culture, such as the MedStar Health Innovation custom channel on the system's Elective Learning platform (featuring our past Innovation Forum content), as well as the internal email series Reframings…Notes from our Innovator-in-Residence.
Innovation Labs
Our innovation labs explore and build capabilities, services, and solutions in support of innovation initiatives, MedStar Health operations, and strategic partnerships.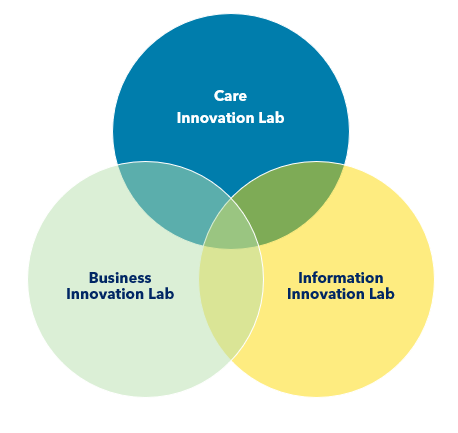 Reflecting our inherent desire to improve patients' lives and our own work, the Care Innovation Lab creates a dynamic, collaborative environment to pursue new approaches to care and clinical workflows across the care continuum.
Striving to deliver unique, mutual value, the Business Innovation Lab sparks novel collaborations through its venture and inventor services.
Understanding that information is the fabric and foundation of everything we do in health care, Information Innovation Lab creates information solutions and infrastructure that advance health and the healthcare experience for patients and providers.
Operations and Innovation at Scale
In addition to exploring and building new solutions, the MedStar Institute for Innovation houses major innovation operations functioning at scale across MedStar Health. As core functions within the MedStar Institution for Innovation, these operational initiatives share innovation capabilities and administration resources, increasing their efficiency and impact across the MedStar Health system.
MedStar Health Simulation Training and Education Lab
MedStar Health SiTEL (Simulation Training and Education Lab) combines clinical expertise with education, simulation, instructional design, and human factors principles. MedStar Health SiTEL innovates, creates, and delivers dynamic interactive online training, virtual and hands-on high-fidelity simulations, and continuing professional education (CPE) products supporting MedStar Health associates to positively impact patient care.
MedStar Telehealth Innovation Center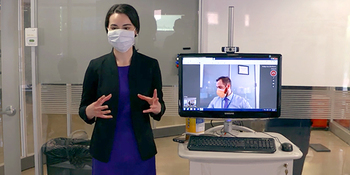 The MedStar Telehealth Innovation Center (MTIC) provides centralized connected care operational support, infrastructure, subject matter expertise, and new implementations at MedStar Health.
Chartered in 2017 after years of foundational work in telehealth, MTIC quickly expanded and scaled in 2020 when the need for telehealth skyrocketed in response to the COVID-19 pandemic.
MedStar Health Center for Wellbeing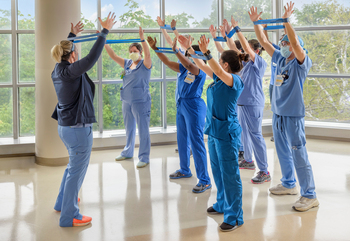 The MedStar Health Center for Wellbeing further develops and promotes an innovative and supportive wellbeing culture that prioritizes optimal health, professional fulfillment, and quality of life to help the system serve as a best place to work in health care.
Innovation Incubator
The innovation incubator allows MedStar Health programs to grow their model and impact, supported by the resources, capabilities, and positioning of the MedStar Institute for Innovation. The incubator provides an initial home for startup clinical and operational programs, often in emerging areas of care that are crucially important to the future of health care.
MedStar Center for Surgical Innovation
The MedStar Center for Surgical Innovation (MCSI) is shaping the future of surgical technology, practice, and training, underscoring and advancing MedStar Health's leadership in the sector. MCSI supports the system in serving as a magnet destination for outstanding patients, surgeons, and residents, and advancing health through innovation, research, and education.
MedStar Health Pharmacogenomics (PGx) and Genetic Medicine
The MedStar Health Pharmacogenomics (PGx) and Genetic Medicine program brings the role of genetics more deliberately to the forefront of our care delivery model. The team conducts research into the way individuals' genetic makeup affects drug response. This program leads efforts across the system to integrate relevant learning into patient care.
Innovation Initiatives
Innovation initiatives are strategic priorities that reach across the MedStar Institute for Innovation and MedStar Health teams to explore new opportunities and address significant organizational challenges. Our priority innovation initiatives are informed by MedStar Health's strategy and greatest needs, as well as breakthrough technologies and trends.
Key Partners and Collaborators
Connected CARE—Care Access, Research, Equity—& Safety Consortium
The Connected CARE & Safety Consortium examines and enhances the impact of telehealth technology on U.S. health care access, safety, and health equity—especially for patients with chronic conditions and other vulnerable populations. It was founded by MedStar Health, Stanford Medicine, and Intermountain Healthcare through grant funding from the Agency for Healthcare Research and Quality.
MedStar Health National Center for Human Factors in Healthcare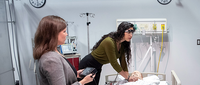 Founded within the MedStar Institute for Innovation, the MedStar Health National Center for Human Factors in Healthcare grew out of our incubator and, as of July 2020, moved to its new organizational home in the MedStar Health Research Institute. Given the success and evolution of its work to promote a safer and more efficient healthcare environment, the Human Factors Center remains deeply integrated with, and shares a location with, the MedStar Institute for Innovation as part of the Advancing Health community at MedStar Health.
Our Administrative Residency Program
Read about the MedStar Health administrative residency in innovation and clinical operations, as well as the past residents. Learn more