Physical Therapy at Ballston-Marymount | 22203 | MedStar Health
Welcome to physical therapy at Ballston-Marymount
At our therapy clinic at Ballston-Marymount, you'll find creative and compassionate physical therapists who treat a variety of orthopedic, sport, vestibular and neurological conditions. Our experienced occupational therapist sees orthopedic and post-surgical diagnosis and fabricates custom orthosis. Our team approach ensures you receive the personalized care and attention you need to regain independence and restore function.
Visiting physical therapy at Ballston-Marymount
Hours of operation:
Monday to Thursday:
6:30 a.m. to 6 p.m.
Friday: 6:30 a.m. to 4 p.m.
Insurance
We proudly accept most major health plans. The list below serves as a guide and is subject to change. If you are unsure about your coverage, please call your insurance provider. Insurance is collected prior to scheduling services.
Podcasts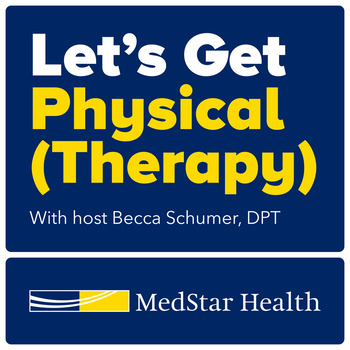 The "Let's Get Physical (Therapy) Podcast," hosted by MedStar Health Physical Therapy, is a new educational podcast series designed for rehabilitation professionals, students, new graduates, and those in related fields. Join us as we discuss treatment options, innovations, techniques, and more with a wide variety of medical professionals.
Elizabeth Rothermel, PT, MSPT, Regional Director

Elizabeth Rothermel attended Ithaca College where she received her bachelor's degree in clinical studies and her master's degree in physical therapy. Elizabeth is a board-certified geriatric clinical specialist (GCS) with expertise in the following rehabilitation areas:

Concussion Management and Care

Multiple Sclerosis Services

Neurorehabilitation

Parkinson's Disease (LVST BIG™)

Stroke Recovery

Temporomandibular Joint Disorder (TMJ) Treatment

Vestibular/Balance Rehabilitation

Nicole Shenk, PT, DPT, Clinic Coordinator

Nicole Shenk received her B.S.Ed. from The University of Virginia and her Doctorate in Physical Therapy from Old Dominion University. Nicole's rehabilitation specialties include:

ACL Injury Prevention
AlterG Anti-Gravity Treadmill
Knee, Foot and Ankle Therapy
Orthopedic Injuries and Conditions
Running Injury Care
Selective Functional Movement Assessment
Sports Concussion

Roshanak Hassanzadeh, OTR/L, MS, Certified Hand Therapist

Roshanak Hassanzadeh received her doctoral degree from Concordia University. She speaks English and Farsi. She is a certified hand therapist (CHT) and her rehabilitation specialties include:

Arthritis Treatment

Custom Fabrication for Upper Extremity Orthotics

Hand and Elbow Therapy

Pain Management

Repetitive Motion Disorder Services

DaRell Springer, PT, DPT, EP-C

DaRell Springer received his bachelor's degree in Exercise Science from Virginia Commonwealth University. He went on to obtain his associate degree in massage therapy from Alliance Medical and Health Sciences College and then completed his doctoral degree in physical therapy at Hampton University. DaRell is an ACSM Certified Exercise Physiologist. DaRell's rehabilitation specialties include:

Knee, Foot and Ankle Therapy
Orthopedic Injuries and Conditions
Post-operative Orthopedic Rehabilitation

Julie Walker PT, DPT
Board Certified Neurological Clinical Specialist

Julie Walker received her Bachelors of Health Sciences and Doctorate of Physical Therapy degrees from Boston University in Boston, MA. She then completed the Johns Hopkins and University of Delaware Neurological Physical Therapy Residency program and is a Board Certified Neurological Clinical Specialist. She has extensive experience with neurorehabilitation including, but not limited to, the following areas:

Vestibular Rehabilitation

Parkinson's Disease

Spinal Cord Injury

Stroke Rehabilitation

Multiple Sclerosis

Post-Concussion Rehabilitation

General Balance and Fall Prevention

Lauren Beshada received her bachelor's degree in Health, Physical Education, and Exercise Science from Virginia Commonwealth University. Lauren completed her doctoral degree in Physical Therapy from Mary Baldwin University Murphy Deming College of Health Sciences. Lauren has a focus in general orthopedics. Lauren's rehabilitation specialties include:

Orthopedic and Sports Injuries and Conditions
Post-operative Orthopedic Rehabilitation

Lindsey Greenwald, PT, DPT

Lindsey Greenwald received her Doctorate in Physical Therapy from Duke University and received her Bachelors of Science in Health and Exercise Science from Wake Forest University. Her rehabilitation specialties include:

Concussion Management and Care
Neurorehbilitation
Parkinson's Disease (LSVT)
Vestibular/Balance Rehabilitation

Sarah Katz, PT, DPT, M.Ed, CSCS

Sarah Katz attended the College of William and Mary where she received her B.S. in Kinesiology and ran for the varsity track and field team. She went on to earn her M.Ed. from the University of Virginia in Exercise Physiology and her DPT from Virginia Commonwealth University. She has completed a sports physical therapy residency at Massachusetts General Hospital and Northeastern University in Boston, MA and will sit for the sports clinical specialist exam in the spring. Sarah's rehabilitation specialties include:

ACL injury prevention
Blood Flow Restriction Therapy
Knee Foot and Ankle Therapy
Orthopaedic Injuries and Conditions
Running injury care
Spine services

Steven McFetridge, PT, DPT, CSCS

Steven McFetridge received his Bachelor's of Science degree in Exercise Science from the University of Pittsburgh, where he played for the varsity soccer team. Steven completed his doctoral degree in Physical Therapy from Wheeling University, and received his Certified Strength and Conditioning Specialist certification. Steven's rehabilitation specialties include:

ACL Injury Prevention
Knee, Foot, and Ankle Therapy
Orthopedic Injuries and Conditions
Running Injury Care
Spine Services

Tracy Baker received her Bachelor's of Science in Physical Therapy from Mount St. Mary's University in Los Angeles, CA. Tracy is a board-certified orthopedic clinical specialist (OCS) with expertise in the following rehabilitation areas:

Orthopedic injuries and conditions
Repetitive Movement Disorders
Spine Services

Brian Brown received his AAS degree from Chesapeake College's Physical Therapist Assistant program. Brian's specialties include:

Orthopedic Injuries and Conditions
Knee, Foot and Ankle Therapy

Soch Sam attended Northern Virginia Community College where he earned his Associate's Degree within the Physical Therapist Assistant Program. Soch has his certification in Parkinson's Disease (LSVT BIG). Soch is bilingual in English and Khmer, and he specializes in the following rehabilitation areas:

Orthopedic Injuries and Conditions
Parkinson's Disease (LVST BIG™)