Physical Therapy at McLean | Orthopedic, Musculoskeletal, & Neurological Rehab | 22101 | MedStar Health
Welcome to physical therapy at McLean
The McLean therapy team, which includes physical therapists, occupational therapists, and speech therapists, provide a full range of care for general orthopedic, musculoskeletal, vestibular, and neurological conditions. Our exceptional driving rehabilitation program is also onsite. Therapists provide individualized care and develop specific training regimens to promote safety, function, and independence.
Visiting physical therapy at McLean
Hours of operation:
Monday: 7 a.m. to 7:30 p.m.
Tuesday: 7 a.m. to 7:30 p.m.
Wednesday: 7 a.m. to 7:30 p.m.
Thursday: 7 a.m. to 7:30 p.m.
Friday: 7 a.m. to 5:30 p.m.
Insurance
We proudly accept most major health plans. The list below serves as a guide and is subject to change. If you are unsure about your coverage, please call your insurance provider. Insurance is collected prior to scheduling services.
Podcasts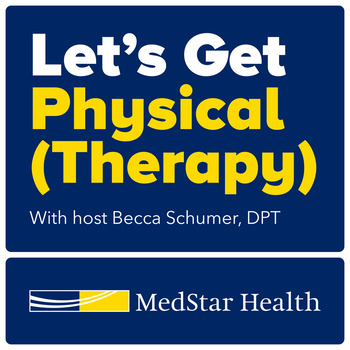 The "Let's Get Physical (Therapy) Podcast," hosted by MedStar Health Physical Therapy, is a new educational podcast series designed for rehabilitation professionals, students, new graduates, and those in related fields. Join us as we discuss treatment options, innovations, techniques, and more with a wide variety of medical professionals.
Rebecca Sachdev, PT, DPT, CMTPT, Clinical Director

Rebecca Sachdev PT, CMTPT received her bachelor's degree in physical therapy from Jawaharlal Nehru Medical College, India. Rebecca has completed her Transitional Doctorate of Physical Therapy from Utica College, NY. Rebecca is a certified myofascial trigger point therapist and is a fellow of applied functional sciences. Rebecca's rehabilitation specialties include:

Cupping (myofascial decompression)

Dry needling

Functional movement screen

Neurologic conditions

Orthopedic and sports injuries

Michelle Flewitt, PT, DPT

Michelle Flewitt is a physical therapist at MedStar Health Physical Therapy at McLean. She attended University of Virginia, where she received her bachelor's degree in Biology and Psychology. She also completed her doctoral degree in physical therapy from Virginia Commonwealth University.

Jennifer Krainer, PT, DPT

Jennifer Krainer received her Doctorate of Physical Therapy from Washington University in St. Louis, MO, and has bachelor's degrees in music performance and psychology from Drake University in Des Moines, IA. She has extensive experience in neurorehabilitation, including:

Multiple Sclerosis
Parkinson's Rehabilitation (LSVT BIG™)
Post-Concussion Management and Care
Stroke Rehabilitation
Traumatic Brain Injury
Vestibular/Balance Rehabilitation

Anish Nair received his bachelor's degree in physical therapy from VSPM's College of Physiotherapy, India. He also completed his master's degree in musculoskeletal physical therapy from Sheffield Hallam University, UK. Anish is proficient in Hindi Malayalam and specializes in the following rehabilitation areas:

Chronic pain from Arthritis

Dry Needling for pain

Knee, Foot, and Ankle Therapy

Neck Pain and Lower Back Pain Orthopaedic, sports Injuries and Conditions

Rehabilitation after Joint Replacements

Pain Management

Wendy Sloan received her bachelor's degree in Exercise Science from The University of Alabama. Wendy completed her doctoral degree in physical therapy from Franklin Pierce University. Wendy's rehabilitation specialties include:

Orthopedic Injuries and Conditions

Julie Walker PT, DPT
Board Certified Neurological Clinical Specialist

Julie Walker received her Bachelors of Health Sciences and Doctorate of Physical Therapy degrees from Boston University in Boston, MA. She then completed the Johns Hopkins and University of Delaware Neurological Physical Therapy Residency program and is a Board Certified Neurological Clinical Specialist. She has extensive experience with neurorehabilitation including, but not limited to, the following areas:

Vestibular Rehabilitation

Parkinson's Disease

Spinal Cord Injury

Stroke Rehabilitation

Multiple Sclerosis

Post-Concussion Rehabilitation

General Balance and Fall Prevention

Lower Extremity Amputee Service

Ethan Carroll received his bachelor's degree in Science Technology in Society with a minor in Biology from North Carolina State University. He went on to Northern Virginia Community College and received an associate of applied science degree and became a licensed Physical Therapist Assistant (PTA). Ethan's rehabilitation specialties include:

Orthopedic Injuries and conditions
Manual therapy
Sports injuries and return to sports play

Lenora Brasher attended the University of Texas at Austin for her undergraduate degree before completing her master's degree in occupational therapy at Shenandoah University. She is a certified hand therapist (CHT) and specializes in the following:

Lymphedema Therapy

Pre- and Post-Operative Care

Shoulder, Hand, and Wrist Injuries and Splints

Katie Fair is an occupational therapist and driver rehabilitation program specialist. Katie received her bachelor's degree in occupational therapy from James Madison University before completing her master's degree in occupational therapy from the University of Alabama at Birmingham. She also has two graduate certificates, one in low vision rehab and the other in advanced teaching. Katie is an adjunct faculty and guest lecturer for local Occupational Therapy Assistant (OTA) programs and has presented at local and national conferences on topics related to post-concussion and vision rehabilitation with the neurological population. Katie's rehabilitation specialties include:

Driver rehabilitation

Post-concussion therapy

Focused rigidity casting

Neurologic conditions

Saeboflex certification

Sarah Ouwerkerk received her bachelor's degree in Kinesiology from Acadia University. Sarah completed her master's degree in occupational therapy from the University of Alberta. Sarah specializes in treating individuals with neurological conditions. Sarah's rehabilitation specialties include:

Concussion management and care
Spinal cord injury
Stroke
Brain injury
Movement disorders
Parkinson's Disease
Upper Extremity Amputee Services

Brownrigg Snow, MS, CCC-SLP

Brownrigg Snow began her career with MedStar in 2003. She earned her bachelor's degree in communication disorders from the University of Virginia and her master's degree in speech-language pathology from James Madison University. A co-founder of the Aphasia Mentorship Program, Brownrigg has published and presented on topics related to aphasia. She specializes in the following areas:

Brain Injury Recovery

Concussion Management and Care

Stroke Recovery

Neurogenic conditions

Parkinson's disease (LSVT LOUD)

Traumatic brain injury

Voice therapy

Alyssa Bleimeyer, MS, CCC-SLP

Alyssa Bleimeyer earned her bachelor's degree in Speech-Language Pathology and Deaf Studies from Towson University. She also completed her master's degree in Speech-Language Pathology from Gallaudet University. Alyssa is certified in Lee Silverman Voice Treatment (LSVT LOUD) and specializes in the following rehabilitation areas:

Aphasia Services
Brain Injury Recovery
Stroke Recovery
Concussion Management and Care
Dysarthria (Slurred or Slow Speech) Therapy
Dysphagia (Swallowing) Therapy
Head and Neck Cancer Rehabilitation
Neurorehabilitation
Parkinson's Disease (LSVT LOUD)

Justin Griggs received his bachelor's degree in Consumer Studies from Virginia Tech University. After working in the advertising industry for 5 years as a graphic designer, he decided to pursue a new career helping others through injury rehabilitation and movement. He went on to complete his associate's degree for physical therapist assistant from Northern Virginia Community College. Justin is Graston M1 certified and a specialist in Orthopedic Conditions for the physical therapist assistant.

Justin's rehabilitation specialties include:

Knee, Foot and Ankle injuries

Orthopedic Injuries and Conditions

Pediatric Sports physical Therapy

Alter G Antigravity Treadmill