Rotator Cuff Surgery | Washington DC, Maryland, Virginia | MedStar Health
Various conditions and injuries can damage the rotator cuff, cause pain, and make it difficult for you to move your arm. When non-surgical treatment does not improve your symptoms, rotator cuff surgery can help.
At MedStar Health, our arthroscopic rotator cuff surgery and repair technique is minimally invasive and uses an arthroscope or thin, flexible tube equipped with a small camera. Your surgeon inserts the arthroscope through a small incision in your shoulder. The camera magnifies your injury onto a screen and allows your surgeon to visualize the damage in detail. The surgeon can then repair your tissue and restore the torn cuff to its correct position at the top of your arm bone precisely without affecting any surrounding tissue.
Our approach
The experience of our orthopedic surgeons in arthroscopic and minimally invasive surgery is unparalleled at any other hospital in the region. We perform close to 500 rotator cuff surgeries every year. You can rest assured that your surgeon is fellowship trained in surgery and specializes only in shoulder surgery. Our team leads the field in both innovative research and in training other surgeons around the country in surgical procedures.
When you visit us, we take time to explain the details of your condition or injury and to discuss all available surgical options to you and your family. We work together on a treatment plan that will feel most appropriate for you, that will effectively alleviate your pain, and that will restore your function as quickly as possible. You also benefit from the personalized rehabilitation program that we design to support your recovery.
We use this surgery to treat a variety of rotator cuff problems including:
Rotator cuff disease
Shoulder tendinitis and tendinosis
Shoulder impingement
Recovery
Recovery from surgery generally involves protecting your arm in a sling for about 1 month, followed by about 5 months of physical therapy to regain strength and range of motion. Your orthopedic surgeon will discuss the specific program designed for you prior to your procedure.
What are the benefits?
Our goal is for you to experience the following benefits after surgery:
Shoulder pain relief
Restored range of motion in the shoulder
Improved shoulder strength and balance
Improved shoulder stability
Ability to return to normal activities
Additional information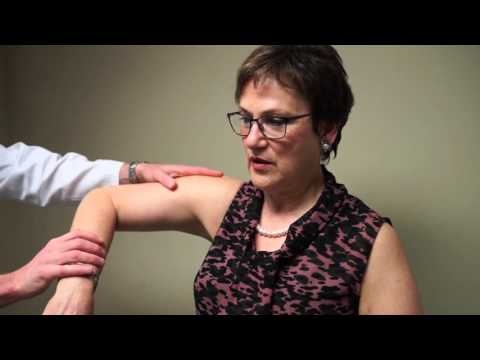 Rotator Cuff Repair: Betsy Bassan's Story