Fellowship in Pulmonary and Critical Care Medicine at MedStar Georgetown University Hospital
The MedStar Health - Georgetown University Hospital Fellowship Program in Pulmonary Disease and Critical Care Medicine
Greetings!
Welcome to the Pulmonary and Critical Care Fellowship Program at MedStar Georgetown University Hospital. We are located on the Georgetown University campus, adjacent to the Medical School.
Our mission is to provide the foundation and environment that will allow fellows to develop into superb, academic clinicians with the highest professional ethos, in the spirit of Georgetown's Cura Personalis, or care for the whole person.
Our faculty are dedicated to producing well trained academically oriented consultants in pulmonary and critical care medicine. The fellowship is designed to provide outstanding clinical and procedural expertise in the pulmonary, critical care and interventional pulmonary realms. Research and scholarly activity is expected throughout the fellowship, with a focus on developing several areas of expertise to further hone research acumen and potentially lead to a career in independent academic investigation.
Georgetown University and our fellowship program remains focused on faculty and trainee well-being through the promotion of a healthy work environment.
Please review our website, and do not hesitate to reach out with any questions. I thank you for your interest!
Daniel Jamieson, MD
Program Overview Video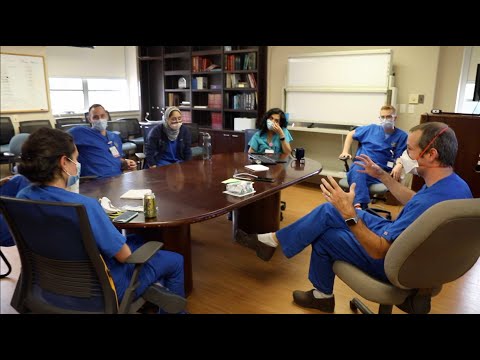 History
Since the beginning, the Pulmonary and Critical Care Fellowship at Georgetown University has maintained a steadfast focus on innovation and education. Dr. Richard Waldhorn (Fellow, 81′) and his lab were instrumental in evaluating and implementing positive pressure ventilation in patients with obstructive sleep apnea in the 1980s, and Georgetown maintains a busy sleep lab to this day currently headed by Dr. Dina KiaNoury (Fellow '00). Drs. Eric Anderson (Fellow '99) and Rebecca Krochmal run a robust interventional pulmonary practice using the most cutting edge techniques, recently adding robot assisted peripheral lung nodule biopsy to their diagnostic armamentarium. Dr. Anne O'Donnell currently runs a world-renowned bronchiectasis program at Georgetown, with robust research and clinical volume. Since 2004, the division has held the clinical responsibility of running all critical care services at Georgetown, including the medical, surgical and neurosciences ICUs.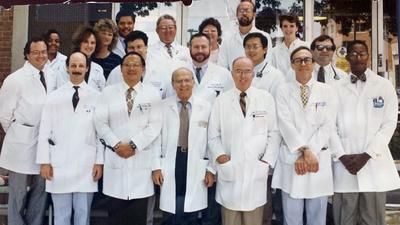 Education, both of our fellows and by our fellows, remains at the forefront of our program. Our faculty have also always served an integral role in the Georgetown Medical School, both in the pre-clinical and clinical realm. Dr. Ed Tsou was the long-standing director of Physical Diagnosis, and Dr. Ajeet Vinayak (IM resident '04) is the course director of the M1 Pulmonary Physiology module. Pulmonary and Critical Care faculty educate throughout the medical school, residency and fellowship. Our fellows continue to participate in education of medical students and residents. The Housestaff award for Excellence in Teaching by a fellow has been won by one of our fellows 13 times in the last 16 years. Last year, along with winning, every one of our fellows was nominated for the award!
The modern 3-year Pulmonary and Critical Care Fellowship at Georgetown University Hospital was started in 1988 under the direction of Richard Waldhorn, MD (fellow '81) as Program Director and Hall Canter, MD as Division Chief. Prior to this time, a two year Pulmonary Fellowship was in place. Dr. Charles Read succeeded Dr. Waldhorn to become program director in 1995, when Dr. Waldhorn became Chief of the Division. Dr. Anne O'Donnell, MD became Chief of the Division in 2001 after Dr. Waldhorn became Chair of the Department of Medicine. Cristina Reichner, MD (Fellow '05) succeeded Dr. Read as Program Director in 2014. Daniel Jamieson, MD took the reins of the program in 2020 as only the 4th program director since the Fellowship's founding.
Teaching hospitals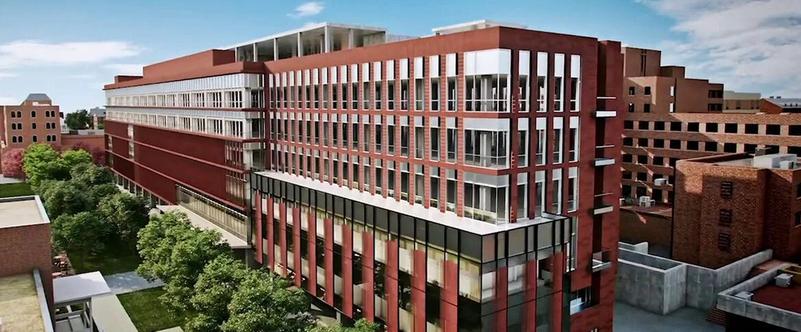 The primary teaching institution for the fellowship, MedStar Georgetown Hospital is located adjacent to the Georgetown University Medical School on the Georgetown University Campus. It is a 500-plus bed tertiary care facility with a full complement of diagnostic and clinical services. Rotations at Georgetown include experience on the pulmonary consultation service on the general medical and surgical floors of the hospital, and as a team leader in our housestaff run medical intensive care unit. Our outpatient continuity clinics are also located at Georgetown. The independent bronchoscopy suite has a full complement of the latest technologies for advanced bronchoscopic procedures, including Ion robot navigation, rigid bronchoscopy and medical thoracoscopy. The division directs the pulmonary function and pulmonary exercise laboratory and runs a fully accredited sleep disorders center. The division also has the responsibility for the medical directorship of the respiratory therapy service, and all critical care services, including medical, surgical and neurosciences intensive care. The new Surgical Pavilion is slated to open Fall, 2023.
3800 Reservoir Road, NW
Washington, D.C., 20007
P: 202-444-2000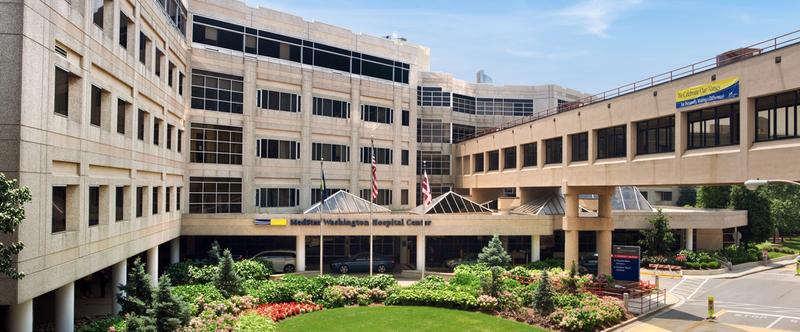 One of our sister Hospitals in the MedStar system. Located in Northeast Washington, DC, it is a level I trauma center with an 800-bed capacity. It is home to the MedStar Heart and Vascular Institute, the preeminent cardiac care center in Washington, DC. The institute performs over 2300 cardiac surgeries annually and is capable of all advanced cardiac therapies.
110 Irving Street, NW
Washington, D.C., 20010
P: 202-877-7000
Located in Falls Church VA, INOVA Fairfax is a 923-bed hospital campus serving the Northern Virginia area. A level I trauma center, it also performs Heart, Lung, Kidney and Pancreas Transplants. The Lung Transplant Program is a multidisciplinary group and cares for patients pre- and post-op. The center has performed over 500 lung transplants. Our fellows rotate onto this team and participate in all aspects of advanced lung disease therapy including preoperative evaluation and treatment and postoperative follow-up care.
Clinical curriculum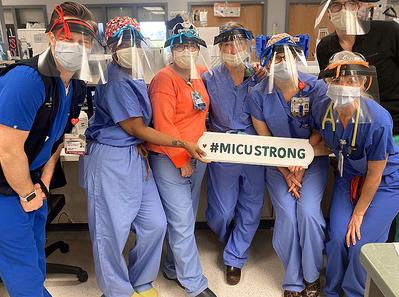 The fellowship is structured to provide clinical and research experience in Pulmonary and Critical Care Medicine over three years for all trainees. The clinical experience is increased during the first year with increasing protected research time throughout the second and third year. Rotations covering the full exposure of clinical pulmonary, critical care and procedural expertise are required. Additionally, required rotations in cardiac critical care, surgical critical care, lung transplant, interventional pulmonary and anesthesia round out the clinical experience. Finally, a continuity pulmonary clinic occurs spanning all three years. We believe that successful Pulmonary and Critical Care physicians should graduate fellowship with expertise in research, clinical care and procedures.
Inpatient Consultation Rotation

Rounds are led by a full-time faculty member on a weekly rotation basis. Pulmonary physiology, pathophysiology and clinical correlation are stressed. The fellows are trained in and develop expertise in the interpretation of chest roentgenograms, thoracic CT studies, lung scans and thoracic ultrasound. Fellows are trained in and perform all pulmonary diagnostic techniques including thoracentesis, bronchoscopy, transbronchial biopsy, EBUS, closed thoracostomy, chest tube management and out-patient right heart catheterization. All procedures are performed with attending physician instruction and back up. Fellows are also trained in the appropriate use of ultrasonography and fluoroscopy. All difficult diagnostic or management problems are discussed at our weekly Case Conference.

The twelve months of critical care training required for board eligibility are integrated into the three-year Pulmonary and Critical Care Medicine Program. A total of 6 months of the experience are in the medical ICU at MGUH. This is our home intensive care unit, staffed by Georgetown University internal medicine and emergency medicine residents. A significant variety of complex pathology awaits in this tertiary care ICU. Two teams are present in the MICU, covering up to 38 beds. The ICU attending and fellows direct the care of these patients. Daily morning rounds and evening sign-out rounds are led by the ICU fellow and attending. On-site radiology is incorporated into rounds. Fellows are trained by PCCM faculty on ICU procedures including endotracheal intubation, bronchoscopy, right heart catheterization, chest tube placement and percutaneous tracheostomies.

Interventional Pulmonary Rotation

Completed at MGUH, this required rotation includes outpatient and inpatient management of patients requiring advanced pulmonary procedures, under the supervision of members of our interventional pulmonary faculty. These procedures include (but are not limited to), advanced bronchoscopic techniques including EM navigation and EBUS, tumor debulking and stent placement, rigid bronchoscopy, medical thoracoscopy, pleurx placement, tracheostomy placement, chest tube placement and thoracentesis. MedStar Georgetown University Hospital recently acquired the Ion robotic assisted endoluminal platform for endoluminal biopsy of peripheral lung lesions, and we are one of the few centers to have this device.

Outpatient Pulmonary Clinic

The faculty within the Division of Pulmonary, Critical Care and Sleep Medicine at Georgetown maintain a robust outpatient clinic. We see the full range of pulmonary pathology including pulmonary hypertension, lung cancer, ILD and bronchiectasis. Fellows are expected to maintain their own outpatient practice under the supervision of our faculty, and to maintain a continuity clinic over the three years of fellowship.

MedStar Washington Hospital Center Rotations

Fellows will rotate to MWHC at least four times during their fellowship for clinical rotations in the SICU, CCU, MHVI and anesthesia. Exposure to advanced cardiac critical care including LVADS, IABP, ECMO and post-operative cardiac care is extensive. The SICU provides exposure to level I trauma critical care, general surgical critical care and neurocritical care. The anesthesia rotation is designed to obtain further exposure to OR based intubations including awake fiberoptic intubation, direct laryngoscopy and video laryngoscopy. The anesthesia rotation complements the robust training received in the MICU where fellows are expected to endotracheally intubate all patients in respiratory failure under the direct supervision of Pulmonary and Critical Care Faculty.

The Advanced Lung Disease Rotation

During this rotation, fellows will spend time working with the multidisciplinary lung transplant team at INOVA Fairfax. In addition to exposure to advanced lung disease, the fellow will gain an understanding of the pre-transplantation work up as well as the management of post-transplant patients.
Didactic Curriculum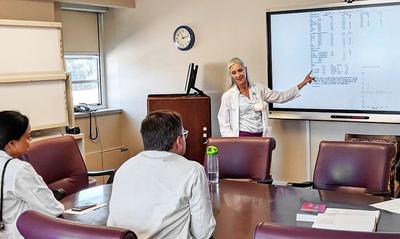 One of the highlights of our program is the robust curriculum participated in by fellows and faculty. Multiple weekly lectures, seminars, journal clubs and case conferences are held throughout our clinical rotations and together within our division. Below is a short synopsis of each:
Radiology Conference: The principles of chest radiology and the extensive teaching files of the Department of Radiology are the basis for this monthly conference for pulmonary fellows.
Pulmonary Physiology/PFT/Exercise Conference: The goal of this conference is to review the physiology and pathophysiology of lung disease as well as interpretations of pulmonary function testing and exercise testing.
Journal Club: A luncheon conference where all major chest journals and articles of pulmonary interest in investigative and general medical-surgical journals are reviewed.
Research Conference: A monthly conference where new protocols are reviewed and critiqued and where investigators have the opportunity to present work in progress and prepare for presentations at national meetings.
Critical Care Lecture Series: Topics in critical care medicine are presented by faculty, fellows and outside speakers to cover both pulmonary and non-pulmonary critical care.
Pulmonary Lecture Series: Topics in pulmonary medicine are presented by faculty, fellows and outside speakers
Multi-disciplinary Thoracic Oncology Conference: This is both a working clinical conference and a didactic one. Every Wednesday, new thoracic oncology cases are presented and discussed by a team of pulmonologists, oncologists, radiation oncologists and thoracic surgeons. Didactic lectures are presented by various team members and invited speakers.
Pulmonary-Infectious Diseases conference: This is also a working clinical conference and a didactic one. Interesting and/or challenging thoracic infectious diseases are presented and discussed by Pulmonary and ID faculty.
Pulmonary- Rheumatology conference: A similar working/didactic conference, this conference focuses on rheumatologic diseases with both pulmonary and critical care implications. Didactic lectures are also incorporated.
Case Conference: Diagnostic and therapeutic dilemmas of interesting pulmonary and critical care cases are reviewed including CXRs, CTs and ultrasounds.
Sleep Conference: This is a monthly multi-disciplinary conference where the basics of sleep medicine are covered by faculty in sleep, neurology, ENT and dentistry.
Pulmonary and Critical Care Morbidity and Mortality: Monthly conference to present morbidities and mortalities and review teaching points.
Pulmonary/ Critical Care textbook review: Usually taking place at the residence of one of our faculty (including dinner!), the goal is to review textbook chapters to prepare for the shelf and board exam.
Regional Critical Care and Pulmonary conference – Weekly conferences held in conjunction with WHC, WR, NIH, UMD, GW, UMD and JHU. All regional fellows participate with the goal of providing a robust overview of general topics in pulmonary and critical care.


Research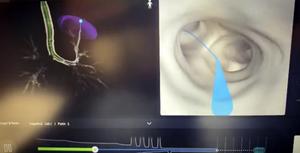 The Division of Pulmonary, Critical Care and Sleep Medicine has a long history of research. All of our faculty are involved in research endeavors and our expectation is that fellows will participate in a meaningful research project or scholarly activity during their three-year fellowship. For faculty research please see associated faculty pages and PubMed.


Examples of recent fellow led research projects:

Bell J, William Pike C, Kreisel C, Sonti R, Cobb N. Predicting Impact of Prone Position on Oxygenation in Mechanically Ventilated Patients with COVID-19. J Intensive Care Med. 2022 Jul;37(7):883-889.

Haber EN, Jamieson DB: Updates on eosinophilia in asthma. Pulmonary Perspectives. Chest Physician. June 13th, 2022

Orr L, Krochmal R, Sonti R, DeBrito P, Anderson E. Comparison of the GenCut Core Biopsy System to Transbronchial Biopsy Forceps for Flexible Bronchoscopic Lung Biopsy. J Bronchology Interv Pulmonol. 2022;29(2):140-145.

Mokhtari N, Drassinower D, Orr L, Cobb N, Mims O, Landy H. Expectant Management of Severe COVID-19 Pneumonia in. Late Preterm Pregnant and Subsequent Cholecystitis: Lessons Learned. Am J Perinatol Rep 2021;11:e29–e33.

Gupta B, Jamieson DB, Sonti R: Physiologic Nonutility of Red Blood Cell Transfusion in Acute Hypoxemic Respiratory Failure. Neth j Crit Care. Vol 29;4. July 2021

Varipapa R, Anderson E. Endobronchial actinomyces associated with aspiration of vegetable material: Diagnosis and debridement with ION Robotic Bronchoscopy. Submitted to Journal of Bronchology June 2021

Varipapa RJ, Sonti R. Predicting success of high-flow nasal cannula in covid-19. Respir Care. 2021;66(6):1044-1045.

Varipapa RJ, DiGiacomo E, Jamieson DB, Desale S, Sonti R. Fluid balance predicts need for intubation in subjects with respiratory failure initiated on high-flow nasal cannula. Respir Care. 2021;66(4):566-572.

Burke E, Haber E, Pike CW, Sonti R. Outcomes of renal replacement therapy in the critically ill with COVID-19. Med Intensiva (Engl Ed). 2021 Aug-Sep;45(6):325-331.

Varipapa RJ Jr, DiGiacomo E, Jamieson DB, Desale S, Sonti R. Fluid Balance Predicts Need for Intubation in Subjects With Respiratory Failure Initiated on High-Flow Nasal Cannula. Respir Care. 2021 Apr;66(4):566-572.

Griffith N, Lance DOS, Orr L, Vinayak A. Concern for Pericarditis in a COVID-19 Positive Patient. Austin Cardiol. 2020; 5(1): 1022.

Cobb N, Solanki J. E-Cigarettes, Vaping Devices and Acute Lung Injury. Respiratory Care. 2020 May; 65(5): 713-18.

Burke E and Krochmal R. Rheumatoid Arthritis Presenting with Mucus Plugs and Bronchiectasis. American Thoracic Society, Philadelphia, PA, May 2020.

Sonti R, Gersten RA, Barnett S, Brown AW, Nathan SD. Multimodal noninvasive prediction of pulmonary hypertension in IPF. Clin Respir J. 2019 Jul 13. doi: 10.1111/crj.13059.

Sonti R, Sanley M, Vinayak A. Using a Laryngeal Mask Airway During Percutaneous Dilatational Tracheostomy is Safe and Obviates the Need for Paralytics. J Bronchology Interv Pulmonol. 2019 Jul;26(3):179-183.

Sonti R, Sanley M, Vinayak A. Using a laryngeal mask airway during percutaneous tracheostomy is safe and obviates need for paralytics. J Bronchology Interv Pulmonol. 2019 Feb 6.

Stephenson B, Roberts A, Read CA: Diffuse Alveolar Hemorrhage: in Critically Ill Cancer Patients Nates & Price :Oncologic Critical Care Springer doi:10.1007/978-3-319-74698-2_49-1)

McGarvey S, Levine M, Gupta P, Cowley RA, Shin J, DeBrito P, Liu S & Anderson ED. Endobronchial Ultrasound-Guided Transbronchial Needle Aspiration for Molecular Testing in Non-Small Cell Lung Cancer Patients. Poster. DC Thoracic Society, Fairfax, VA. April 2019.

Gupta P, Fried J, Liu S, DeBrito P & Anderson ED. A novel Use of Neoadjuvant Crizotinib for a Rare ALK Positive Endobronchial Tumor. Poster. Department of Medicine Research Day, Georgetown University, May 7, 2019.

Fried J, Commins,R, Sonti R, Steen V, Reichner C. Heart rate recovery in patients with scleroderma. ATS 2019, Dallas, TX.

Huapaya JA, Culotta B, Fried J, Bergquist P, Krishnan P, Wang H, Reichner C, Steen V. Long-term evaluation of pulmonary function tests in subgroups of patients with interstitial pneumonia with autoimmune features. ATS 2019, Dallas, TX.

Burke E and Krochmal R. A Rare Case of Transudative Chylothorax. American College of Chest Physicians, New Orleans, LA, October, 2019.

Welt E, Gross R. A case of giant cell arteritis related interstitial lung disease. Am J Respir Crit Care Med 2018;19:1558 (Poster session at the 2018 American Thoracic Society International Conference, San Diego, CA)

S. Srinivas, A. Ratwani, K. Davison, SR O'Brien, D. Jamieson. Teaching the Intangible: Implementation of a Simulation Program to Improve Communication and Teamwork During Code Blue Responses at an Academic Medical Center (abstract). American Journal of Respiratory and Critical Care Medicine 2018;197:A4515

Carson S, Fried J, Krishnan P, Bergquist PJ, Steen V, Reichner C. CT findings in Patient with Interstitial Pneumonia with Autoimmune features. ATS 2018, San Diego, CA.

Srivinas SV, Ratwani A, Davison K, O'Brien SR, Jamieson DB: Teaching the intangible: Implementation of a Simulation Program to Improve Communication and Teamwork During Code Blue Responses at an Academic Medical Center. Presented at the American Thoracic Society Meeting, 2018

McGarvey S and Krochmal R. Unusual Presentations of Mycobacterial Infections. American Thoracic Society, San Diego, CA, May 2018.

Stephenson B, Read CA: Bilateral Primary Endobronchial Leiomyosarcoma: ATS 2018 San Diego
Fellowship & Division Leadership
Application Process
Application for the July 2024 Fellowship Program begins August 2023 and continues through November 2023.
In alignment with the recommendations from the AAMC, AMA, ECFMG, NRMP and the Association of Pulmonary and Critical Care Medicine Program Directors (APCCMPD), our national professional society, and to ensure a uniform interview process that is equitable to all applicants, our fellowship interviews for applicants in 2023-2024 will be held exclusively virtually. We will not offer in-person site visits.
How to Apply through ERAS
You should apply for the Pulmonary and Critical Care Fellowship Program through ERAS (Electronic Residency Application Service). For information about the process or to register for ERAS on the web, please go to www.aamc.org/eras.

Upon receiving the applications through ERAS, the Georgetown Pulmonary and Critical Care Fellowship program will contact candidates about the possibility of an interview.
The "MATCH"
Once you have applied to the Pulmonary and Critical Care Fellowship Program and accepted our invitation to interview with our faculty, fellows and staff, we hope you will choose to rank Georgetown at the top of your list of desirable training programs in Pulmonary and Critical Care Medicine.
Georgetown participates in the National Resident Matching Program's Medical Specialties Matching Program (MSMP) in Pulmonary and Critical Care Medicine. For information about NRMP or to register on the web to participate in NRMP, please go to www.nrmp.org.
Contact us
For additional information on our Fellowship Program, please contact:
Riza Peralta, Administrator
Georgetown University
Division of Pulmonary, Critical Care and Sleep Medicine
3800 Reservoir Road, NW
4 North Main Hospital, Rm. M4215
Washington, DC 20007

Phone: (202) 444-8830
Fax: (202) 444-0032
e-mail: peraltar@gunet.georgetown.edu