Psychiatry Residency Program | MedStar Georgetown University Hospital | MedStar Health
The MedStar Health—Georgetown University Hospital Residency Program in Psychiatry
We are excited that you are considering our residency. From our beautiful Washington, D.C., location, you will receive excellent, diverse and well-rounded training that will prepare you for a career of your choice in psychiatry.
Residents have the benefit of working with a faculty of expert clinicians, renowned researchers, and award-winning teachers. Residents and faculty participate actively in the education of medical students at Georgetown University School of Medicine.
We approach our work in research, education, and mentoring with integrity, humility, and compassion, with an eye toward helping under-served populations and to improve quality of life for all.
Learn more about our program from our residency training program director.
Learn more about our program from our department chair
Why train here
MedStar Georgetown University Hospital is an internationally esteemed academic medical center whose missions of research, teaching, and patient care are carried out with a strong emphasis on community outreach and the principle of Cura Personalis–care of the whole person.
Psychiatry residents at MedStar Georgetown have access to our many affiliates, including MedStar Washington Hospital Center, the Veteran's Administration Hospital, and the National Institute of Mental Health and many others, giving them valuable exposure to different health care systems, and patient populations.
Our mission is to
Train excellent psychiatrists who think like scientists and act like humanitarians.

We believe that an excellent psychiatrist is a physician who can think about both the mind and the brain. An investigator who understands the relevant scientific evidence, and a humanitarian who provides the very best care and treats patients with respect and compassion We are inspired by Georgetown's value of Cura Personalis, or care of the whole person.

Balance a well-rounded training experience with the personalized interests of each resident.

We are fortunate to be in Washington DC with its many resources and diverse training sites and patient populations. This diversity of experiences provides our residents with a well-rounded training in both academic and community settings. We also offer unique international experiences through our Global Health Track and opportunities for advocacy through our Social Medicine and Health Equity Track. We believe in providing individualized educational experiences that prepare our residents for successful careers of their choosing in clinical practice, scholarship, teaching and research.

Foster a stimulating and supportive community

We seek a balance of excellence with wellness and support in our training program. Our residents' safety and wellbeing are priorities that we proactively promote in an environment of support and collegiality. We believe that these are conditions that allow for the best learning and the highest quality of patient care. We aim to foster the values of equity, humility and service while committing to the highest standards of education and training.
Learn about the Health Equity and Global Health Track.
Curriculum
The didactic curriculum provides residents with the scientific and conceptual basis for clinical practices. It also offers them a space to contemplate treatment dilemmas outside of the pressures of the clinical environment.

Georgetown residents have one afternoon of dedicated didactic time per week in each year of training. This time is protected from clinical responsibilities and serves as a foundation for the additional rotation-based conferences, teaching rounds, and journal clubs that residents attend.
The following are some of the major topics covered in didactics:

The first year includes rotations on internal medicine, neurology and psychiatry. On the psychiatry rotations, you will have the opportunity to care for diverse patients with a wide range of psychiatric illnesses in different health care systems (academic, community and VA). You will also learn effective patient interviewing skills and will be learning clinical reasoning skills, formulation and treatment planning


In the second year, you will work with patients in inpatient and outpatient settings and will learn how to be a consultant to other services. You will start to develop psychotherapy skills focusing on supportive psychotherapy. There are many elective options available for PGY2s.

This is an outpatient year. You will learn how to provide care for outpatients in multiple settings. You will also learn how to care for special populations including children, adolescents, peripartum women, the elderly and the severely mentally ill. This year you will start practicing psychodynamic psychotherapy and CBT.


The fourth year is a flexible year, individually designed for each resident. Residents spend 50% of their time on clinical services, including Chief positions and clinical rotations. There are five chief resident positions. With the other 50% of their time, fourth year residents pursue electives of their choice.

Please follow the link to learn about some of the electives that past residents have pursued in their PGY2, 3 or 4. This list is not intended to be complete, residents can create electives that meet certain criteria and fit with their interests and career goals.
The following is a list of call responsibilities:
PGY-1s: Three weeks of night float at MGUH (divided into 1 week and 2 week blocks). Six Friday overnight shifts at MGUH paired with six Sunday daytime shifts at MGUH.
PGY-2s: One week of night float at MGUH. Seven 24-hour call shifts at MGUH (6 on Saturdays, 1 on a holiday). Six daytime shifts on Sundays at MWHC.
PGY-3s: Two weeks of night float at MGUH. Six daytime shifts on Sundays at MGUH. One 24-hour holiday.
PGY-4s do not have any call obligations.
Hear from our team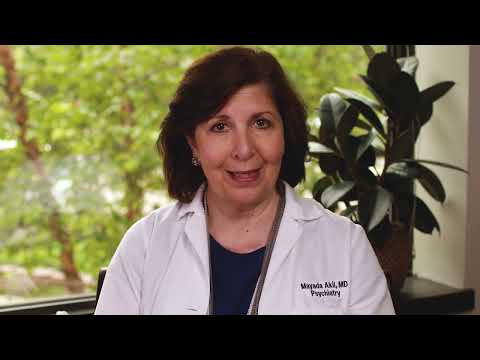 Hear from our Training Director, Mayada Akil, MD, and a variety of psychiatry residents at different stages of their residencies.
Research
Vision for Research Training
The overall goal of the research curriculum is for each resident to develop research literacy and the ability to read the basic and clinical literature relevant to psychiatry critically. Residents will also have the opportunity to develop a specific area of clinical or professional expertise that is grounded in the research literature. Finally, residents will have the opportunity to actively participate in research and produce knowledge.
Psychiatry residents receive instruction in the core areas of research concepts, methods and analysis. They demonstrate the acquisition of research skills through their performance on oral presentations and their scholarly project. These skills are a requirement for graduation from the residency program in psychiatry. The PGY4 project relates directly to the identified area of expertise and is overseen by a faculty mentor.

Research Curriculum
The research curriculum emphasizes research literacy and evidence-based practices throughout the four-year program. During the research methods course residents develop a research proposal that culminates in the completion of a scholarly project in the PGY4 year. The curriculum consists of the following elements:
Residents participate in journal clubs to build critical reading, analytical thinking and oral presentation skills. During the PGY1 and PGY2 years, these are held during didactic time, and residents rotate in preparing and presenting. During the PGY3 year, this is held weekly with both resident and faculty participants.

This course is taught during the PGY3 year. It emphasizes research design, research methods and how to read and understand the literature. Residents develop their own research proposal during the course that they may use for their scholarly project.

Each PGY4 resident completes a mentored research project that can range from original research, collaboration on faculty projects to critical reviews of the peer-reviewed literature. The projects are presented in a poster session at the end of the PGY4 year and some result in publications and presentations at national meetings.

PGY4 Grand Rounds Presentation

Each PGY4 is expected to present at Grand Rounds on a topic of interest or on their own research under the supervision of a mentor.

In addition, the department has a close relationship with the intramural research program at the National Institute of Mental Health, which offers a PGY4-6 research fellowship for individuals with research interest and background.
MedStar Georgetown is a world-renowned, not-for-profit, acute-care teaching and research hospital located in Northwest Washington, D.C., Neurosciences is among the many centers of excellence at our facility.
3800 Reservoir Rd. NW
Washington, D.C., 20007
MedStar Washington is a 912-bed major teaching and research hospital. It is the largest private, not-for-profit hospital in Washington, D.C., and among the 100 largest hospitals in the nation.
110 Irving St. NW
Washington, D.C., 20010
Washington, D.C. Veterans Affairs Medical Center
The Washington, D.C., Veterans Affairs Medical Center is the flagship hospital in the Veterans Health Administration system. The medical center operates a multi-million dollar research program that supports more than 100 investigators and more than 300 active research projects.
50 Irving St. NW
Washington, D.C., 20422
Affiliate training sites
Other facilities also may be utilized during your psychiatry residency. These include:
Dominion Hospital
Clifton Perkins Hospital
National Institute of Mental Health
Virginia Hospital Center
Further inquiries regarding the application process should be directed to:
Beth Sweeney
beth.a.sweeney@gunet.georgetown.edu
Administrator, Residency Programs MedStar Georgetown University Hospital
Department of Psychiatry
2115 Wisconsin Avenue, NW Suite 200
Washington, D.C., 20007
P: 202-944-5372
F: 202-944-5404