Plastic Surgery Residency Programs | DCl | MedStar Health
The MedStar Health—Georgetown University Hospital Residency Program in Plastic Surgery
The plastic surgery residency trains outstanding clinical surgeons for productive careers in both academia and clinical practice.
Our residents are trained in technical performance, ethics, and clinical judgment at the highest possible level.
They leave the program highly capable surgeons, refined in mind and character, ready to master every responsibility of patient care, scholarship, and leadership.
Why train here
The program is set up to admit residents at the PGY-1 level for six years of training. The first year, which includes 3 months total in plastic surgery, focuses on general surgery. The second year is all plastic surgery except for one month on burn surgery and one month on critical care. The remaining time is spent focusing on plastic surgery specifically with immersive training that prioritizes early and frequent operative experience. The program complement is 24 residents.

Each resident gets 3 months of plastic surgery as an intern, 10 months of plastic surgery as a PGY-2 and all plastic surgery thereafter.
We embrace a culture of selflessness, empathy, and compassion. We work, grow, and care for one another as teammates. Any surgical residency is rigorous and challenging — but our residents thrive, in a courteous, respectful, and enthusiastic training environment.
Our residents not only receive the finest possible training; they look forward to coming to work. That sets us apart from other highly respected programs.
Academic excellence
Residents benefit from early exposure to hands-on training and progressive responsibility for patient care in hospitals in the MedStar Health system, as well as affiliate hospitals throughout the D.C. region. The program offers unparalleled breadth and depth of training with many sites at world-recognized centers of excellence. All but eight months of the six-year program are dedicated plastic surgery rotations.
The limb rotation is on Dr. Christopher Attinger's and Karen Evans' world-class Limb Salvage Center, where third-year residents serve as chief of service
Formal hand surgery rotations are under the direction of Dr. James Higgins at the world-renowned Curtis National Hand Center at MedStar Union Memorial Hospital
Residents gain breast surgery experience under Drs. David Song and Ken Fan at the Betty Lou Ourisman Breast Health Center at MedStar Georgetown University Hospital
The PGY-5 resident takes an elective month that can be arranged anywhere for a one-month deep dive. Past residents have trained in Korea, Taiwan, and major U.S. institutions
The PGY-6 receives a focus month in any area of interest where additional concentration is desired prior to graduation
Our program is unique in that we have only one fellow, dedicated to microsurgery. Since each operative day usually includes several microsurgery cases, the fellow does not detract from the resident experience. The absence of other fellows maximizes the residents' experience in maxillofacial, hand, limb, aesthetic, and peripheral nerve cases.
Medstar Center for Gender Affirmation led by Dr. Gabriel Del Corral, a microsurgeon who specializes in all aspects of gender affirmation surgery. Dr. Del Corral operates in Baltimore at Franklin Square Hospital and in Washington, D.C., at Washington Hospital Center.
Maxillofacial surgery by Dr. Stephen Baker who specializes in reconstructive and aesthetic facial surgery including genioplasty, rhinoplasty, orthognathic surgery, facial asymmetry, facial trauma, facial reshaping and skeletal components of facial rejuvenation.
Research is led by Dr. Ken Fan. The Medstar Georgetown Department of Plastic Surgery is supported by 2-3 research fellows each year, a full-time biostatistician, and an economist allowing the residents to have ample support in their research endeavors as they progress through the program. This research support enables the residents' projects to continue even when on rigorous rotations.
The first year of training focuses on core surgical principles. PGY-1s spend the majority of the year on general surgery services, where they get exposure to alimentary tract surgery, surgical oncology, transplant surgery, pediatric surgery, orthopedic surgery, and vascular surgery. Interns also rotate on other services such as trauma, anesthesia, and the emergency department. Rotations are one month in duration.

The second year incorporates one month of burn surgery and one month of critical care. The remaining twenty-two months are devoted entirely to plastic surgery with a concentration on limb salvage, upper and lower extremities, hand trauma, burn injuries, surgical critical care, and reconstructive surgery. PGY-2 and PGY-3 residents get some exposure to facial trauma and pediatric plastic surgery. While on the limb rotation, the PGY-3 resident is the acting chief for the service.

The final three years of the program include rotations concentrated in plastic surgery, with a significant increase in responsibility and autonomy. Upper-level residents spend the majority of the academic year at affiliate sites and gain increased exposure to:

Cosmetic surgery
Breast surgery
Microsurgical techniques
Tissue transfer
Pediatric plastic surgery
Reconstructive surgery
Oculoplastic surgery
Craniomaxillofacial surgery
chief resident clinic in PGY 5 and 6 years

Senior residents also receive increased individual mentoring and teaching from faculty. PGY-5s are offered the opportunity to complete a one-month elective in a specialty of their choice. This rotation can be set up at any domestic institution or with one of our international affiliates.

During the PGY-6 year, the residents act as the chief of each rotation service and are responsible for managing the surgical service in all aspects including clinical, administrative, and supervision of junior residents and medical students.

Residents participate in a weekly session each Thursday from 6 a.m. to 10 a.m., during which they are protected from most other clinical and educational activities. Each hour of this session is dedicated to one of approximately 125 topics covering a wide range of plastic surgery and related subjects.

Basic sciences are covered in the didactic sessions, including lectures on pathology, pharmacology, anesthesia, anatomy, embryology, etc. Additionally, time is set aside during conferences for Journal Club, quality assurance, art class, cadaver labs, microsurgery workshops, and facial plating workshops.

On a less frequent basis, residents review for tests, including the in-service exam, examine the art of finding a job after residency, practice-based learning, research, and learn other life lessons such as managing a private practice and finances.
Electives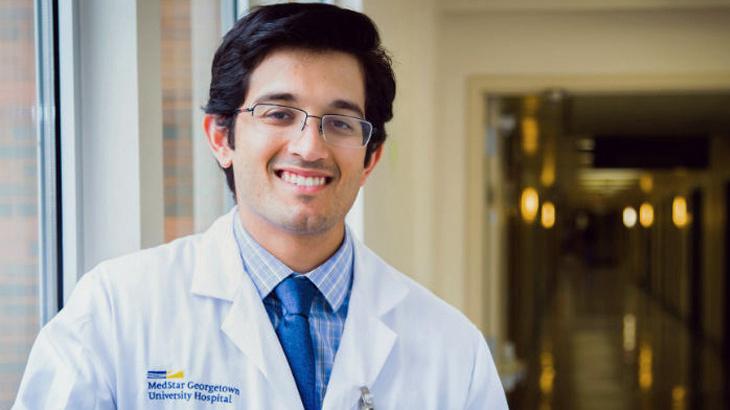 This sub-specialty clerkship for third-year medical students is directed by Karen Kim Evans, MD.

It includes rotations in the MedStar Georgetown University Hospital general plastic surgery service and in the limb service. Students assist residents on the floor, in clinic, in rounds, in OR cases, and attend the academic conference.

Plastic surgery rotations are generally four weeks, arranged through the Georgetown School of Medicine for in-house students or through VSAS for visiting students.

To learn more, contact the Office of Surgical Education

SURP 500 - plastic surgery acting internship

Over the course of four weeks, this fourth-year acting internship is directed by Kenneth L. Fan, MD.

The student learns the nature and scope of plastic surgery, with emphasis on both reconstruction and aesthetics. They assist with floor tasks, consults, and the pager. Each takes call at least once during the rotation and is expected to give one academic conference presentation.

Students rotate on the following services:

MedStar Georgetown General Plastics; two weeks; breast reconstruction, microsurgery, lymphedema, and aesthetic surgery
MedStar Georgetown Limb Service; one week; lower extremity wounds, microsurgery, and abdominal flaps
MedStar Washington Hospital Center General Plastics; one week; microsurgery, lymphedema, hand surgery, wound debridement,facial trauma, and body contouring

SURP 501 - lower extremity reconstructive surgery and wound care

This four-week elective, directed by Karen Kim Evans, MD, increases knowledge and skills in reconstructive plastic surgery of the lower extremity.

The student participates in patient consults, outpatient clinic, inpatient and outpatient surgery, and clinical procedures. With surgical volume around 1,600 cases per year, the student gets intensive exposure to wound healing, flaps, grafts, biomechanically sound amputations, and limb salvage vs. amputation decision-making.

Inpatient floor management includes wound care, medical orders, blood sugar management, and working with infectious disease consultants and hospitalists.

Applying to fourth year rotations

Visiting students should apply for the SURP-500 Acting Internship through VSAS, the visiting student application service.

The plastic surgery program will begin reviewing applications on VSAS after match week and will offer spots on a rolling basis
Visiting students must have scored 220 or higher on USMLE Step 1 to be eligible for this rotation. Offers will be made formally through VSAS
Once an offer is accepted, students will be sent further instructions with information regarding check-in and other administrative items one week before the rotation
Schedule
Sample academic year block schedule:
How we evaluate candidates
A frequently asked question: what are you looking for in the plastic surgery residency applicant?
In a word, potential. The team completes a holistic evaluation of each applicant, but grades, board scores, and research record are all very important.
What qualities predict potential? The U.S. Army's Core Values make a good example: duty, respect, selfless service, honor, integrity, and personal courage. John Wooden lists more in his Pyramid of Success: poise, confidence, team spirit, self-control, initiative, industriousness, friendship, cooperation, and enthusiasm. Others that increase your odds of success include empathy, judgment, resilience, and grit.
The program's responsibility is to help each resident develop to full potential to become an outstanding surgeon. Good starting ingredients make the job easier; our residents are doctors with "the right stuff."
Application information
Interested in applying? Get more details on how to apply to join our program.
Contact us
We welcome your questions about our program. For additional information, please contact:
Aimee Williams
Residency Program Coordinator