Physical Therapy at Mitchellville | Therapists & Speech Pathologists | 20721 | MedStar Health
Welcome to physical therapy at Mitchellville
With easy access from Washington, D.C., and the beltway, we're conveniently located in Mitchellville Plaza and offer free parking. Our therapists and speech-language pathologists work closely with MedStar's network of orthopedic surgeons, physiatrists, and primary care physicians—some of whom are located next door. This ensures you receive coordinated, comprehensive care throughout your rehabilitation journey.
Visiting physical therapy at Mitchellville
Hours of operation:
Monday: 7 a.m. to 7 p.m.
Tuesday: 7 a.m. to 7 p.m.
Wednesday: 7 a.m. to 7 p.m.
Thursday: 7 a.m. to 7 p.m.
Friday: 7 a.m. to 5 p.m.
Insurance
We proudly accept most major health plans. The list below serves as a guide and is subject to change. If you are unsure about your coverage, please call your insurance provider. Insurance is collected prior to scheduling services.
Podcasts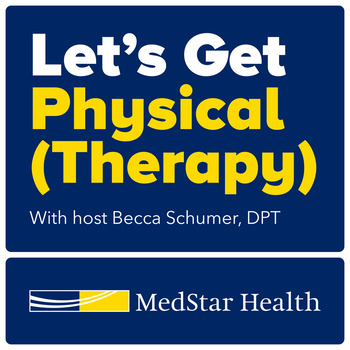 The "Let's Get Physical (Therapy) Podcast," hosted by MedStar Health Physical Therapy, is a new educational podcast series designed for rehabilitation professionals, students, new graduates, and those in related fields. Join us as we discuss treatment options, innovations, techniques, and more with a wide variety of medical professionals.
Sarah Stone, PT, DPT, Regional Director

Sarah Stone received her bachelor's degree in Health Sciences and completed her doctoral degree in Physical Therapy from Quinnipiac University. Sarah specializes in treating neurological injuries, specifically spinal cord injury, Parkinson's, and stroke. Sarah's rehabilitation specialties include:

Brain Injury Recovery
Knee, Foot, and Ankle Therapy
Neck Pain and Lower Back Pain
Neurorehabilitation
Orthopedic Injuries and Conditions
Parkinson's Disease (LSVTTM BIG and LOUD)
Stroke Recovery
Pain Management
Spinal Cord Injury Treatment
Balance Rehabilitation

Adrienne Tolson, MS, OTR/L, CHT, CLT

Adrienne Tolson earned her bachelor's degree in Exercise Science Towson University. She also completed her master's degree in occupational therapy from Howard University. Adrienne is a Certified Hand Therapist and Certified Lymphedema therapist that specializes in the following rehabilitation areas:

Shoulder, Hand, and Wrist Therapy
Reflex Sympathetic Dystrophy Services
Orthopedic Injuries and Conditions
Repetitive Motion Disorder Services
Work Related Injuries
Hand Amputation Rehabilitation
UE/LE lymphedema

Kelsi L. Davis, PT, DPT, Clinic Coordinator

Kelsi earned her Bachelor's of Science degree, as well as her Doctorate degree in Physical Therapy from Howard University. Kelsi's rehabilitation specialties include:

ACL Return to Play
Back/Neck/Spine Pain
Joint Pain
Manual Therapy
Orthopedic Injuries and Conditions
Post-op Joint Surgery Rehabilitation
Work-related Injuries

Michael Duffy, OT, Clinic Director

Michael received a Bachelor of Arts in Psychology and Certificate in Gerontology from The University of Massachusetts Boston. He went on to pursue a Bachelor of Science in Occupational Therapy from Howard University in Washinton D.C. He specializes in helping people to help themselves with conditions associated with:

Cardiovascular (Post-Covid, Post-Myocardial Infarction, Cancer Rehabilitation)
Neurological (Stroke, Traumatic Brain Injury, Spinal Cord Injury, Multiple Sclerosis, Parkinson's Disease)
Orthopedic Injuries and Conditions
Orthopedic Injuries and Conditions of the Upper Extremity and Hand

Ariane Grant received a Bachelor's degree in Exercises Science and a Bachelor's degree in Psychology from Old Dominion University. She completed her Doctoral degree in Physical Therapy from Howard University. She also specializes in women's pelvic floor physical therapy and LSVT BIG treatment for patients with Parkinson's disease. Ariane's rehabilitation specialties include:

Arthritis Treatment
Back/Neck/Spine Pain
Balance Rehabilitation
Hip, Knee, Foot, and Ankle
Neurorehabilitation
Pain Management
Parkinson's Disease (LSVT BIGTM)
Orthopedic Injuries and Conditions
Stroke Recovery
Women's Health- Pelvic Floor

Janna earned her Doctor of Physical Therapy degree at Duke University. Janna is a Certified Strength and Conditioning Specialist. Janna's rehabilitation specialties include:

ACL Return to Play
Arthritis
Back/Neck/Spine Pain
Knee, Foot, and Ankle Therapy
Orthopedic Injuries and Conditions
Shoulder Pain

Rachel Oster, PT, DPT, CBIS

Rachel earned her Bachelor of Science degree from the University of Mary Washington. She then went on to earn her Doctor of Physical Therapy degree from Touro College. She is a Certified Brain Injury Specialist (CBIS) and is certified in the LSVT BIG treatment program for Parkinson's disease. Rachel's rehabilitation specialties include:

Balance Rehabilitation
Brain Injury Recovery
Neck Pain and Lower Back Pain
Neurodegenerative Diseases (Multiple Sclerosis, Muscular Dystrophy)
Orthopedic Injuries and Conditions
Post-Polio Syndrome
Parkinson's Disease (LSVT BIG)
Stroke Recovery
Temporomandibular Joint (TMJ) Dysfunction

Jignesh Patel earned his master's degree in physical therapy from the Rajiv Gandhi University of Health Science in India. He is also able to communicate with patients in both the Hindi and Gujarati languages. His rehabilitation specialties include:

Amputation Rehabilitation
Aphasia Services
Arthritis Treatment
Cancer Rehabilitation
Knee, Foot, and Ankle Therapy
Multiple Sclerosis Services
Neck Pain and Lower Back Pain
Neurorehabilitation
Orthopedic Injuries and Conditions
Pain Management
Spinal Cord Injury Treatment
Stroke Recovery
Vestibular/Balance Rehabilitation

Breanne Reynolds, MS, CCC-SLP

Breanne Reynolds earned her bachelor's degree in communications from the University of Maryland, College Park. She also completed her master's degree in communication disorders from Loyola University. Breanne is certified in Lee Silverman Movement Training (LSVTTM) and specializes in the following rehabilitation areas:

Aphasia Services
Brain Injury Recovery
Concussion Management and Care
Dysarthria (Slurred or Slow Speech) Therapy
Dysphagia (Swallowing) Therapy
Head and Neck Cancer Rehabilitation
Neurorehabilitation
Parkinson's Disease (LSVTTM)
Stroke Recovery

Stephanie Beatty, PT, DPT, CLT

Stephanie Beatty, PT, DPT, CLT received a Bachelor's degree in Exercise Science from Old Dominion University. She completed her doctorate degree in physical therapy from the University of Maryland School of Medicine. She also specializes in the treatment of lymphedema.

Arthritis treatment
Breast cancer rehab
Knee foot and ankle therapy
Lymphedema management
Manual therapy
Neurorehabilitation
Orthopedic injuries and conditions
Shoulder therapy
Spinal cord injuries
Stroke recovery
Balance rehabilitation
Work-related injuries

Imani Jabali- Vaughn, PTA

Imani Jabali- Vaughn, PTA received a Bachelor's degree in B.S Rehabilitations from University of Pittsburgh. She completed Applied Associates of Science in physical therapist assistant from Carroll Community College. She also specializes in LSVT BIG, Certified Clinical Instructor, and stroke recovery.

Arthritis treatment
Brain injury recovery
Concussion management and care
Knee foot and ankle therapy
Manual therapy
Neurorehabilitation
Orthopedic injuries and condition
Parkinson's disease (LSVT BIG)
Post-polio syndrome
Spinal cord injuries
Shoulder Therapy
Stroke recovery
Vestibular rehabilitation
Balance rehabilitation