The Breast Imaging Division is located in the Lombardi Comprehensive Cancer Center and is responsible for the interpretation of all breast imaging studies. Our clinic houses three digital mammography units, two ultrasound units, one stereotactic unit, and a patient consultation room. MRI is conveniently located on the second floor of the CCC building with two dedicated breast coils and full biopsy capability. State-of-the-art imaging as it applies to breast diagnosis is offered, including digital screening and diagnostic mammography, breast ultrasound, and breast MRI.
Our team of dedicated breast imagers and fellows work compassionately with patients in all areas of diagnosis of benign and malignant breast disease, including:
Interpretation of screening mammograms
Evaluation of new problems revealed by the screening mammogram or discovered by the patient or her/his personal physician with diagnostic mammography, ultrasound, and/or MRI
Giving every patient in the clinic for diagnostic evaluation her/his results and recommendations verbally and in writing, and the opportunity to ask questions directly of a radiologist at the conclusion of the visit
Using ultrasound, mammographic, or MRI guidance to perform biopsies and procedures facilitating surgical procedures
Helping with assessment and planning for care of breast cancer patients in close relationship with our colleagues in breast surgery, medical oncology, radiation oncology, and pathology
Following post-treatment cancer patients
On average, our division performs over 14,000 screening and diagnostic studies each year as well as over 1,000 interventional procedures.

Breast tomosynthesis (3D mammography)
We are proud to offer breast tomosynthesis to all our patients, at no additional charge.
We have upgraded all our equipment to breast tomosynthesis systems with the latest C-View software that reduces radiation exposure to patients.
Breast tomosynthesis, or 3D mammography, is an FDA-approved imaging modality. Recent trials have shown tomosynthesis to be a more accurate method for detecting early breast cancers compared to traditional 2D mammography alone. It captures 15 digital "projection" images as it arcs over the breast, during a short four-second scan. These images are then digitally reconstructed into a series of high-resolution one-millimeter slices that can be reviewed individually or played back in a cine loop.
Breast tomosynthesis helps detect cancers earlier and more effectively than traditional 2D digital mammography, especially for women with dense breast tissue. As with all mammograms, patients must first see their physician, who will order a screening or diagnostic mammogram. As experts in breast imaging, MedStar Georgetown Breast Radiologists will review each patient's order to properly tailor their examination and provide individualized patient care.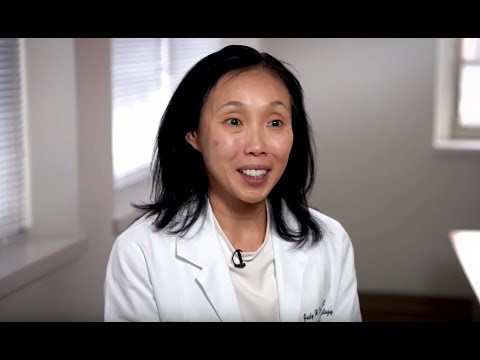 Watch the video above to hear Dr. Judy Song, chief of Breast Imaging at MedStar Georgetown, answer questions about mammogram, results, and how your family history can impact the way you interpret your mammogram.
Expert women's health care
Getting the care you need starts with seeing one of our women's health specialists.
Additional information
Image-guided breast procedures
If you have been recommended for a biopsy, additional information can be found at RadiologyInfo.org.
Awards & Recognitions
MedStar Georgetown University Hospital is a designated Breast Imaging Center of Excellence by the American College of Radiology (ACR).
Click here for the most frequently asked questions about mammograms.