Physical Therapy at Olney – PT, OT & Speech Pathologists | 20832 | MedStar Health
Welcome to physical therapy at Olney
At our Olney physical therapy office, you'll find the full spectrum of therapy services from orthopaedic care and specialized hand therapy to state-of-the-art rehabilitation for neurological conditions. Our team consists of physical therapists, occupational therapists, and speech pathologists who work together to tailor treatment plans that help you achieve your goals. Whether you're a weekend athlete or looking to improve your quality of life after a stroke, you can count on us to help you overcome the roadblocks keeping you from your favorite activities.
Visiting physical therapy at Olney
Hours of operation:
Monday: 7 a.m. to 7 p.m.
Tuesday: 7 a.m. to 7 p.m.
Wednesday: 7 a.m. to 7 p.m.
Thursday: 7 a.m. to 7 p.m.
Friday: 7 a.m. to 4:30 p.m.
Saturday: 8 a.m. to 11:30 a.m.
Insurance
We proudly accept most major health plans. The list below serves as a guide and is subject to change. If you are unsure about your coverage, please call your insurance provider. Insurance is collected prior to scheduling services.
Podcasts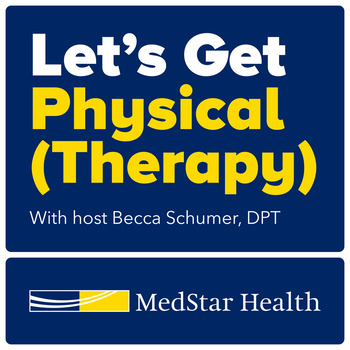 The "Let's Get Physical (Therapy) Podcast," hosted by MedStar Health Physical Therapy, is a new educational podcast series designed for rehabilitation professionals, students, new graduates, and those in related fields. Join us as we discuss treatment options, innovations, techniques, and more with a wide variety of medical professionals.
Lauren Asher received her bachelor's degree in kinesiology from James Madison University. Lauren also completed her doctoral degree in physical therapy from Shenandoah University. Lauren specializes in the following rehabilitation areas:

ACL Injury Prevention

Knee, Foot, and Ankle Therapy

Neck and Back Pain

Orthopedic Injuries and Conditions

Sports Injuries

Shoulder Pain

Molly Fieldsend attended Villanova University where she received her bachelor's degree in psychology. Molly also completed her master's degree in occupational therapy from Thomas Jefferson University. Molly is also SAEBO- and BIONESS-trained, as well as LSVT BIG™ -certified. Her rehabilitation specialties include:

Arthritis Treatment

Brain Injury Recovery

Cancer Rehabilitation

Concussion Management and Care

Complex Regional Pain Syndrome (CRPS) Treatment

Multiple Sclerosis Services

Neurorehabilitation

Orthopedic Injuries and Conditions

Parkinson's Disease (LSVT™)

Repetitive Motion Disorder Services

Spinal Cord Injury Treatment

Stroke Recovery

Vestibular/Balance Rehabilitation

Vision Rehabilitation

Maddy graduated from the University of Wisconsin with a Bachelors of Science in Animal Science. She then obtained her Associates of Applied Science Degree as a Physical Therapist Assistant from Montgomery College in 2022. Her rehabilitation specialties include:

Arthritis Treatment

Cervical & Cervicothoracic Pain

Manual Therapy Techniques

Orthopedic Injuries and Conditions

Pre and Post Operative Care

Shoulder, Hip, Knee & Ankle Therapy

Work Related Injuries & Rehab

Brain Injury Recovery

Multiple Sclerosis Services

Neck Pain and Lower Back Pain

Neurorehabilitation

Orthopedic Injuries and Conditions

Pain Management

Post-Polio Therapy

Spinal Cord Injury Treatment

Stroke Recovery

Sandra Guevara M.A., CCC-SLP

Sandra Guevara earned her bachelor's degree in speech-language pathology from Towson University. She completed her master's degree in speech-language pathology from the University of Maryland. Additionally, Sandra has a Bilingual Certification (Spanish-English) in speech-language pathology from the University of Maryland. She is certified in the McNeill Dysphagia Therapy Program and is a SPEAKOUT!® trained provider. Her rehabilitation specialties include:

Aphasia Services
Brain Injury Recovery
Stroke Recovery
Concussion Management and Care
Motor Speech Disorders
Cognitive-Communication Disorders
Dysphagia (Swallowing) Therapy (McNeill Dysphagia Therapy Program)
Neurorehabilitation
Parkinson's Disease (SPEAKOUT!®)

Susan Healy received her associate's degree in physical therapy assistance from Northern Virginia Community College. Susan also completed her bachelor's degree in business administration from the University of Maryland. Her rehabilitation specialties include:

Amputation Rehabilitation

Brain Injury Recovery

Concussion Management and Care

Multiple Sclerosis Services

Neck Pain and Lower Back Pain

Neurorehabilitation

Orthopedic Injuries and Conditions

Pain Management

Parkinson's Disease (LSVT™)

Pediatric Physical Therapy

Post-Polio Therapy

Spinal Cord Injury Treatment

Stroke Recovery

Vestibular/Balance Rehabilitation

Phanna Iamlek received her bachelor's degree in biology from The University of North Carolina at Chapel Hill. She also completed her doctoral degree in physical therapy from Marymount University. She is bilingual in English and Thai. Phanna's rehabilitation specialties include:

Orthopedic Injuries and Conditions
Neurorehabilitation
Arthritis Treatment
Neck Pain and Lower Back Pain
Knee, Foot, and Ankle Therapy
Pain Management

Leora Kor received her bachelor's degree from Yeshiva University and her master's in occupational therapy from Touro College. She earned an advanced degree in hand and upper extremity therapy (CHT) in 2019. She treats a variety of orthopedic conditions from shoulder to hand including:

Overuse Injuries and Tendinopathies
Post-fracture Management
Custom Fabrication of Orthotics
Arthritis Treatment
Nerve/Tendon Injuries and Repairs
Wound Care

Julie Knolmayer received her bachelor's degree from James Madison University. Julie also completed her master's degree in physical therapy from the University of Delaware. Her rehabilitation specialties include:

ACL Return-to-Play Testing

Knee, Foot, and Ankle Therapy

Neck Pain and Lower Back Pain

Overhead Thrower's Program

Sports Injuries

Kelsey McSherry, PT, DPT, ATC, COMT, Clinic Director

Kelsey McSherry received her bachelor's degree in kinesiology from the University of Maryland. Kelsey also completed her master's degree in athletic training and her doctoral degree in physical therapy from Shenandoah University. Kelsey is a certified athletic trainer and specializes in the following rehabilitation areas:

ACL Injury Prevention

Athletic Training Services

Dry Needling

Knee, Foot, and Ankle Therapy

Neck Pain and Lower Back Pain

Orthopedic Injuries and Conditions

Sports Injuries

Valerie Mulryne, PT, DPT, ATC

Valerie Mulryne received her bachelor's degree in health and exercise sciences from Gettysburg College. She also completed her doctoral degree in physical therapy from Arcadia University. Valerie is a certified athletic trainer and specializes in the following rehabilitation areas:

ACL Return-to-Play Testing

Arthritis Treatment

Cancer Rehabilitation

Complex Regional Pain Syndrome (CRPS) Treatment

Hand, Wrist, and Elbow Therapy

Head and Neck Cancer Rehabilitation

Knee, Foot, and Ankle Therapy

Lymphedema Management

Neck Pain and Lower Back Pain

Orthopedic Injuries and Conditions

Work Related Injuries

Marlene Murphy received her bachelor's degree in physical therapy from Simmons College. She is also a certified clinical instructor for the American Physical Therapy Association (APTA). Her rehabilitation specialties include:

Arthritis Treatment

Facial Palsy Therapy

Fibromyalgia Care

Head and Neck Cancer Rehabilitation

Knee, Foot, and Ankle Therapy

Neck Pain and Lower Back Pain

Orthopedic Injuries and Conditions

Pain Management

Temporomandibular Joint Disorder (TMJ) Treatment

Catherine Robinson, PT, DPT

Catherine Robinson received her bachelor's degree from the University of Maryland, College Park. Catherine also completed her doctoral degree in physical therapy from the University of Pittsburgh. Her rehabilitation specialties include:

Concussion Management and Care

Neurorehabilitation

Orthopedic Injuries and Conditions

Dry Needling

Vesibular/Balance Rehabilitation

Parkinsons Disease (LSVT™)

Mary Beth Roca attended the Philadelphia College of Pharmacy and Science where she received both her bachelor's degree in health science and her master's degree in physical therapy. Mary Beth specializes in the following rehabilitation areas:

Brain Injury Recovery

Concussion Management and Care

Movement Disorders

Multiple Sclerosis Services

Neurorehabilitation

Parkinson's Disease (LSVT™)

Spinal Cord Injury Treatment

Stroke Recovery

Vestibular/Balance Rehabilitation

Joseph Rosenberg, PT, DPT

Joseph Rosenberg received his bachelor's degree in psychology with a minor in neuroscience from the University of Maryland, College Park. Joseph also completed his doctoral degree in physical therapy from the University of Maryland, Baltimore. He is a certified myofascial trigger point therapist (CMTPT) and specializes in the following rehabilitation areas:

Arthritis Treatment

Concussion Management and Care

Complex Regional Pain Syndrome (CRPS) Treatment

Dry Needling

Fibromyalgia Care

Knee, Foot, and Ankle Therapy

Neck Pain and Lower Back Pain

Orthopedic Injuries and Conditions

Pain Management

Vestibular/Balance Rehabilitation

Jacob Shilling received his bachelor's degree in biology from Salisbury University. Jacob completed his doctoral degree in physical therapy from Marymount University. He specializes in the following rehabilitation areas:/p>

Arthritis Treatment

Concussion Management and Care

Complex Regional Pain Syndrome (CRPS) Treatment

Knee, Foot, and Ankle Therapy

Neck Pain and Lower Back Pain

Orthopedic Injuries and Conditions

Pain Management

Sports Injuries

Shoulder Pain

Vestibular/Balance Rehabilitation

Mike received his Associates of Applied Science Degree as a Physical Therapist Assistant from Carroll Community College in 2015. Mike also graduated from Salisbury University in 2012 where he completed his Bachelor's Degree in Exercise Science. In 2018, Mike became a Certified Orthopedic Physical Therapist Assistant (CO-PTA). His rehabilitation specialties include:

Arthritis Treatment
Cervical & Cervicothoracic Pain
Chronic Lower Back Pain
Manual Therapy Techniques
Orthopedic Injuries and Conditions
Pre and Post Operative Care
RockTape FMT Advanced Kinesiology Taping Certified
Shoulder, Hip, Knee & Ankle Therapy
Sports Injuries & Rehab
Work Related Injuries & Rehab

Jackie Williams, PTA, Clinic Coordinator

Jackie Williams received her bachelor's degree in athletic training from High Point University. She also completed her associate's degree in physical therapy assistance from Arapahoe Community College. Jackie's rehabilitation specialties include:

ACL Return-to-Play Testing

Concussion Management and Care

Knee, Foot, and Ankle Therapy

Neck Pain and Lower Back Pain

Orthopedic Injuries and Conditions

Sports Injuries

Temporomandibular Joint (TMJ) Disorder Treatment

Emma Rosenthal OTR/L, CHT

Emma Rosenthal completed her graduate studies in Occupational Therapy at Clarkson University in upstate New York and her undergraduate studies in Psychology at North Carolina State University in Raleigh, North Carolina. She earned her CHT credential in 2022 given by the Hand Therapy Certification Commission (HTCC) which marks the culmination of 4,000 hours and 3 additional years of study beyond her master's degree training. Emma recieved a fellowship training in diagnoses ranging from the hand to shoulder in 2022. Additionally, she carries the Certified Kinesio Tape Practicioner (CKTP credential) to utilize kinesiotape for pain relief, support, and edema reduction. She treats a variety of orthopedic conditions from shoulder to hand including:

Overuse Injuries and Tendinopathies

Post-fracture Management

Custom Fabrication of Orthotics

Arthritis Treatment

Nerve/Tendon Injuries and Repairs

Wound Care

Stroke Recovery

Complex Regional Pain Syndrome (CRPS) Treatment

Arthritis Treatment

Periperal Neuropathy