Rectal and Colon Cancer Surgery | MedStar Health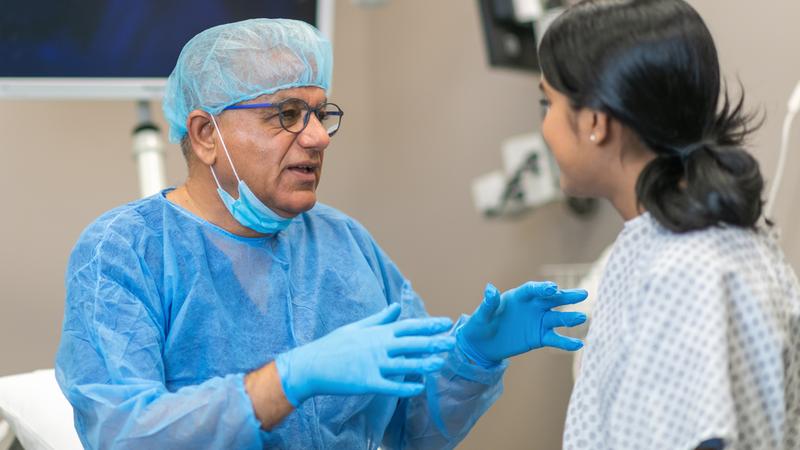 Treating colorectal cancer with advanced surgical techniques that help you heal quickly and safely
At MedStar Health, our surgeons perform rectal and colon cancer surgery at a high number every year, using advanced techniques to enhance recovery. From minimally invasive surgeries to sphincter-preserving techniques, our goal is to help you return quickly to the life you love while maintaining your ability to use the bathroom normally.
Depending on if you have advanced cancer, you may also benefit from other types of therapies in addition to surgery to treat colorectal cancer. Because our experienced surgeons work alongside other multidisciplinary experts specializing in this type of cancer, including radiation and medical oncologists, among others, you can expect a comprehensive approach that offers you the best hope for a cure and quality of life.
If you've been diagnosed with colon cancer or rectal cancer, surgery may be one of your best treatment options, especially if you have early-stage cancer. Although colon and rectal cancers are sometimes grouped together and called colorectal cancer, the surgical approach may vary depending on the location of your tumor, as well as its size and how far cancer has spread.
Our approach
Minimally invasive rectal and colon cancer surgery
At MedStar Health, our colorectal surgeons are experienced in all kinds of surgical procedures to treat this cancer type, including minimally invasive techniques, such as:
Laparoscopic surgery: During laparoscopic colorectal surgery, our surgeons use a special instrument called a laparoscope, which is a thin tube with a light and camera on the end. The laparoscope is inserted through small incisions in the abdomen.

Robotic-assisted procedures: Robotic surgery allows your surgeon to effectively remove your cancerous tumor with superior precision while minimizing the pain and risk associated with traditional surgery. During the procedure, your surgeon performs the operation from a surgeon's console using robotic arms and specialized instruments to operate within a small incision.
Because these approaches require smaller cuts than open surgery, patients benefit from shorter hospital stays, fewer complications, and faster recoveries. Your doctor will determine if you're a good candidate for minimally invasive surgery, depending on your unique case.
Enhancing recovery through proactive techniques
We use special protocols before, during, and after surgery called Enhanced Recovery After Surgery. This approach optimizes a patient's health before the procedure and uses innovative pain management techniques to allow patients to recover more safely and quickly following surgery. Patients can expect:
A multidisciplinary approach to pain management
Dietary guidelines that help minimize nausea and vomiting post-surgery
An emphasis on mobility to speed recovery
Types of colon and rectal surgery
Early-stage colorectal treatments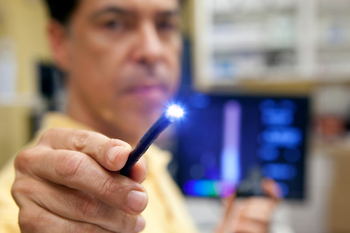 A colonoscope is a long, flexible tube that gastroenterologists use to view the entire colon and rectum during a procedure called a colonoscopy. When your doctor finds signs of abnormalities in the rectum or colon, like noncancerous polyps or very early-stage cancers, they can often remove them using attachments to a colonoscope. This eliminates the need for surgery. And because they're outpatient procedures, patients can go home the same day and get back to normal activities relatively quickly.
These procedures may include:
Polypectomy: Removal of a noncancerous polyp(s)
Local excision: Removal of small, early-stage tumors
Extended mucosal resection (EMR): Removal of a larger but noncancerous polyp or very early-stage colon cancer

Colon cancer surgery
Colectomy, or Colon Resection
After you've been diagnosed with colon cancer, we perform certain diagnostic tests to understand the cancer's stage. Surgery is nearly always the primary and best option for colon cancer treatment. If your tumor is a stage three or you have metastatic colon cancer, that means cancer has spread through the lining to one or more lymph nodes and/or other organs. In this instance, and for some stage two cancers, your cancer team may also recommend chemotherapy in addition to surgery.
During surgery for colon cancer, your colorectal surgeon may remove part of the colon (called a partial colectomy or segmental resection). This allows your surgeon to remove all of the cancer cells and a thin margin of healthy tissue surrounding the tumor. They may also remove nearby lymph nodes. In other instances when cancer spreads throughout the entire colon, your surgeon may remove all of the colon (total colectomy). At MedStar Health, our surgeons regularly perform these procedures using laparoscopic or robotic techniques that help patients recover more quickly and safely than traditional surgical methods.
After surgery, you can expect to wake up in the postoperative area with:
Boots on your legs to prevent blood clots
Oxygen in your nose
An IV in your arm
Liquids to drink (Once this goes well, you can eat solid food)
The best predictor for early discharge and excellent recovery is walking, so we help you get moving early and often. We'll also give you a breathing tool to help you exercise your lungs. Your care team will discuss when to expect discharge but most patients stay in the hospital for three days following surgery, on average.
Will I need a colostomy after surgery to treat colon cancer?
A colostomy is when your surgeon has to attach a bag to the colon to catch waste through an opening in the abdomen. This only needs to be done if the colon cannot be surgically reconnected. The overwhelming majority of patients who undergo colon cancer surgery do not need a permanent colostomy.
Rectal cancer surgery
Like colon cancer, diagnosis and staging is an important step. However, surgery for rectal cancer can be a little more complicated. Staging often involves advanced imaging tests, like an MRI, that allows us to view the pelvis to see how deep the tumor is in the rectal wall. Staging will determine how we approach rectal cancer treatment.
Early-stage tumors: For very early stage one rectal tumors that appear to be slow-growing and haven't affected any blood vessels, some patients may undergo a transanal endoscopic microsurgery (TEM). Instead of operating through an incision in the abdomen, we can remove the tumor through specialized instruments to enter through the rectum.

Stage one and two tumors: If the rectal tumor is contained to the rectum and has not spread to lymph nodes (stage one or two), you will undergo surgery using minimally invasive techniques, similar to colon cancer surgery.

Stage three tumors: If the staging suggests it's a locally advanced rectal cancer, cancer has invaded the muscle of the rectal wall and/or lymph nodes. This requires patients to receive pre-surgical treatment that may include chemotherapy and radiation therapy. This helps to shrink the tumor and improve overall outcomes, including

sphincter-preservation following surgery. Then a colorectal surgeon removes the tumor from the rectum using minimally invasive approaches, such as laparoscopic or robotic surgery. Like a colectomy, your surgeon will also need to remove a thin layer of normal tissue.
Will I need a colostomy after surgery to treat rectal cancer?
If the cancer involves the muscles that hold in stool (sphincter complex), you may need a permanent colostomy because we'll have to remove all of the muscles to effectively remove the tumor during surgery. However, this only affects approximately 20 percent of patients who undergo rectal surgery.
Some other patients may benefit from a temporary ileostomy, which is a small bag that is attached to the small intestine instead of the colon. During this procedure, we'll divert the stool through the small intestine to allow everything to heal. Once it does, you can resume normal bowel function.
Late-stage surgery for colorectal cancer
When this cancer has advanced or metastasized, one of the first places it often spreads is the liver. When this happens, we offer several innovative options to treat secondary liver metastases, including interventional radiology techniques such as:
Radiofrequency ablation: We use a special probe with tiny electrodes to kill the cancer cells
Cryosurgery: We use extreme cold to freeze and destroy abnormal tissue during surgery
Radioembolization: We use this approach to treat metastatic liver cancer which has become resistant to systemic therapy or for patients who can no longer tolerate systemic therapy.
Looking for expert cancer care?
With multiple locations throughout the region, patients have access to many of the nation's renowned cancer specialists offering high quality care, second opinions and a chance for better outcomes close to where they live and work. Georgetown Lombardi Comprehensive Cancer Center, one of the nation's comprehensive cancer centers designated by the National Cancer Institute (NCI), serves as the research engine allowing patients access to clinical trials that often lead to breakthroughs in cancer care.