Orthopedic Oncologists: Cancer of the Bone & Soft Tissue Tumors | MedStar Health
Orthopedic oncologists—experts in bone and soft tissue tumors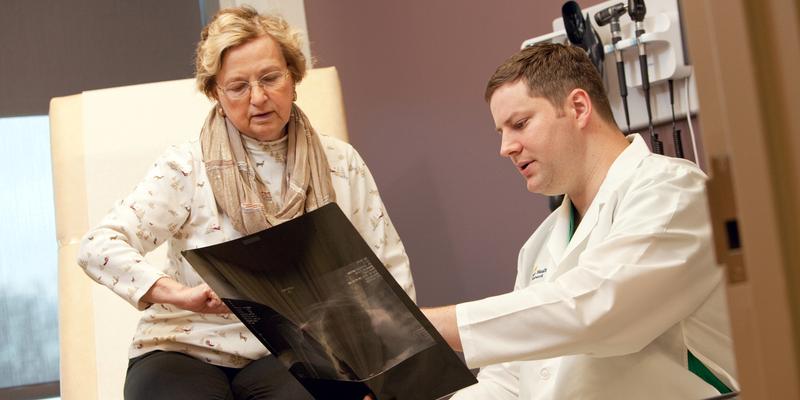 The expert orthopedic oncologists at MedStar Health specialize in the treatment of cancer of the bone and soft tissue of the musculoskeletal system, including cancer that has spread to the bones from another part of the body. Our team of experts uses advanced medical techniques to accurately diagnose orthopedic cancers, eliminating disease while preserving your ability to function normally. Our mission is your full recovery and return to a cancer-free life.
The orthopedic cancer team at MedStar Health—including orthopedic oncology surgeons, medical oncologists, pathologists, radiation oncologists, and specialized nurses and physician assistants—delivers the newest and most promising treatments and innovations. Working as an integrated team, our medical and surgical experts collaborate to develop plans that are individually designed for each patient with any kind of musculoskeletal tumor.
Symptoms & risks
The orthopedic oncology specialists at MedStar Health treat thousands of patients with both common and rare orthopedic tumors each year and have treated many variations of the disease at all stages of diagnosis.
Signs and symptoms of orthopedic tumors
Bone pain that comes and goes or gets worse at night
Swelling or tenderness, with or without bone pain
Weak bones or easy fractures
Extreme fatigue or weight loss
These symptoms can be caused by non-cancerous conditions or osteoporosis. If you have any of these symptoms, see your primary care physician right away.
Orthopedic cancer risk factors
There is no clear cause of bone or soft tissue cancer, but doctors and researchers have determined factors that increase risk:
Previous treatments
Previous radiation therapy
Previous chemotherapy
Metal implants
Bone marrow (stem cell) transplantation
Genetic factors
Osteosarcoma in a family member
Hereditary retinoblastoma (a rare eye cancer caused by genetic mutation)
Current or previous conditions
Cancer that has spread from another area of the body
Paget's disease
Li-Fraumeni syndrome
Rothmund-Thomson syndrome
Tuberous sclerosis
Diamond-Blackfan anemia
Children born with umbilical hernia
Family history of osteosarcoma or other orthopedic cancers is a known risk factor for patients. Genetic counseling can help assess your risk of orthopedic cancers based on your family medical history.
Orthopedic cancer prevention
Because it is not clear what causes orthopedic cancer, it is difficult to determine ways to prevent the disease. As with any cancer, though, the key to better outcomes is early detection of orthopedic cancer and of any cancer type, preventing metastatis to the bones. Your outcomes can also be improved with a healthy, tobacco-free lifestyle that includes optimal nutrition, exercise, and stress reduction.
Screenings & diagnosis
Our physicians gather information from the most advanced methods to develop the most complete and accurate diagnosis possible.
Orthopedic physical assessment
Minimally invasive biopsies can help accurately identify the cancer without going through surgery. Your physician removes tissues or cells from the tumor to determine whether the tumor is benign (non-cancerous) or malignant (cancerous) and how aggressive it is.
Pathology review allows your musculoskeletal pathologist to learn about the tumor and cancer, including type, stage, and whether the tumor was completely removed on a microscopic level. It also determines whether your doctor needs to surgically remove more tissue around the tumor.
Advanced imaging pinpoints the tumor and possible growth of the cancer, using the most advanced technology.
Orthopedic radiology review allows our expert orthopedic surgeons and radiologists to examine the scans and films and identify the location and possible growth of the tumor.
Each patient receives a thorough evaluation and goes through a complete diagnostic process before we create an individualized treatment plan.
Our experts in bone and soft tissue tumors include a team of pathologists, musculoskeletal radiologists, musculoskeletal interventionalists, medical oncologists, and radiation oncologists. Many of our specialists are nationally and internationally recognized experts who lecture worldwide, serve on the editorial boards of prestigious publications, and hold leadership positions in subspecialty organizations.
When we see a new patient, that individual can frequently see all of us on one day—avoiding multiple trips. And we see new patients within 48 hours or less.
Types of orthopedic cancer
The orthopedic cancer specialists at MedStar Health offer help and hope for children and adults diagnosed with primary bone and soft-tissue tumors (benign or malignant), as well as cancer that has spread to the bones from elsewhere in the body.
You and your cancer team will work together to create a personalized care plan that is specific to you. Our goal is to eliminate your cancer while preserving your function and quality of life.
The orthopedic cancer types we treat include:
Benign orthopedic tumors, which, though not cancerous, can still lead to problems with bones and tissues without treatment

Bone sarcomas, which are rare tumors that either develop in or spread to the bones

Soft-tissue sarcomas, which are rare tumors that can grow in muscle, fat, nerves, and blood vessels
We treat even the rarest tumors with advanced cancer-fighting treatments, including minimally invasive diagnostic biopsies and the revolutionary CyberKnife®, which targets tumors that were previously impossible to reach. We also perform limb-sparing surgery for most bone and soft-tissue cancers, avoiding the need for amputation when possible.
Treatments
MedStar Health is home to cancer specialists with recognized expertise in the treatment of cancer of the bone and soft tissues of the musculoskeletal system. Our team, with decades of experience and fellowship-trained surgeons, is dedicated to eliminating your cancer while minimizing the damage to the healthy structures of your body.
MedStar Health patients have access to advanced academic medicine and an NCI-affiliated location, and a large network allowing you to see a specialist close to your home or work.
Our experts specialize in tailored-to-you combinations of the latest cancer-fighting techniques, including:
The most advanced medical oncology and radiation oncology available

Innovative surgical treatments (Cryosurgery)

Clinical trials , providing new options to patients who need a more aggressive solution

Support services including rehabilitation, nurse navigators, nutritionists, psychologists, and more

Palliative services to help those with complex cases find relief from the symptoms and stress, improving quality of life for patients and families

Radiofrequency ablation

Percantaneous cementoplasty
The types of systematic therapies used for bone cancer may include:
Surgical treatments for orthopedic cancer
Primary treatment for tumors of the bone and soft tissue is surgery. Our goal is to remove every trace of cancer and to minimize the risk your cancer will return. This means your surgeon will remove both the tumor and the tissue directly surrounding it, allowing a specialized pathologist to determine whether any cancer cells might have been left behind.
Your musculoskeletal system is a complex system of diverse structures and surrounding structures. This means the surgical techniques we use can vary based on the location of your tumor and the condition of surrounding organs, tissue, and bone.
Limb-saving surgery: There was a time when most musculoskeletal tumors of the limbs resulted in amputation. Today, over 90% of limbs can be spared due to advancements in surgical techniques and in related cancer-fighting therapies. In a limb-sparing surgery, both the tumor and the tissue around it are removed and damage done by the tumor is repaired. The repair can include implants or muscle or tendon transplants. Chemotherapy or radiation often occur following surgery.
Curettage: With this procedure, the surgeon scoops the tumor and any additional concerning tissue out of the bone, leaving a hole in the bone. We often then treat nearby bone tissue with cryotherapy or bone cement (a therapy that uses heat) to destroy any remaining cancer cells.
Cryosurgery: For more aggressive tumors, our surgeons use extremely cold temperatures to destroy tumor cells. Following curettage, the surgeon pours liquid nitrogen or specialized gas to freeze and eliminate any tumor cells remaining within the tumor cavity. The technique is often used to treat benign (aneurysmal bone cysts), aggressive (giant cell tumor of bone), and certain low-grade malignant tumors (low grade chondrosarcomas).
Radiofrequency ablation: In this medical procedure, the tumor is ablated using the heat generated from medium frequency alternating current.
Percutaneous cementoplasty: A new and minimally invasive technique to relieve pain in patients with osteoporosis and bone metastases. Doctors use special cement to fill parts of bone destroyed by cancer that are causing pain. It can help relieve pain and make the bone more stable. It has also improved walking for some people.
Implants and reconstruction: Our surgeons often replace portions of the skeleton with an internal prosthesis, or implant, to provide stability and function after removal of the tumor. Similar to joint replacements, these prosthetics are inside the body. We create custom modular implants to ensure they work best for your body. For young patients still growing, we provide expandable implants. Implants help restore function and prevent the need for amputation.
Intra-abdominal surgery: Sarcomas affecting the soft tissues in the abdominal cavity can affect several organs. Surgical procedures to remove these tumors are very complex. Our surgical oncologists perform a large number of them every year.
Shoulder girdle surgery: After the limbs, the shoulder girdle, which includes several major bones in the shoulder area, is the most common site for the development of bone sarcomas. Your surgeon will remove the entire tumor, as well as a small area of healthy cells around the tumor, to make sure the cancer is removed completely. Once the cancer is removed, the surgeon can insert an internal prosthetic to reconstruct the bone and joint.
Amputation: Though limb-saving surgery is always the most desired course of action, sometimes damage to the tumor-affected area is so great that amputation is the best solution for survival and well-being. In an amputation, the surgeon leaves an area of muscle and skin around the bone to fit into an artificial limb. An amputation is followed by a rigorous period of rehabilitation to get you walking or using your prosthesis, relearning regular functions in a new way.
Support services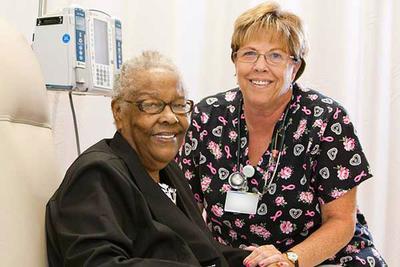 Help for new patients, survivors, and families
The cancer experience is life-changing for patients and their loved ones. Cancer patients need support before, during, and after their treatment. Our goal is to provide compassionate and professional care to individuals affected by cancer, promote the healing process, and treat the whole person.
Our genetic counselor and team of highly trained social workers, dietitians, and chaplains work closely with patients, family members, and loved ones to make sure they have access to the resources they need during the cancer journey—whether they are educational, financial, emotional, or spiritual. Most of our services are free for MedStar Health patients.
Our services focus on building strength, resilience, and hope—giving patients the skills to take control of their lives. We offer support groups, one-on-one counseling, educational workshops, and nutrition and exercise programs. Associates work one-on-one and in groups with patients and their loved ones.
Cancer rehabilitation
Rehabilitation can improve the quality of life for people being treated for, or who have completed treatment for, cancer. Rehab can improve strength, decrease pain, treat lymphedema, and much more. If you have an impairment or discomfort related to your cancer or cancer treatment, talk to your provider to see if rehab could help you. Click here for more information on Cancer Rehabilitation . For additional information on physical therapy click here.
Genetic counseling
Many patients who have a family history of cancer are now considering genetic testing. Our certified genetic counselors work with patients to determine if they are candidates for genetic testing and help them cope with any medical, psychological, financial, or other issues that may result.
Patients who test positive for an inherited cancer gene are offered options in medical management, including screening and risk reduction. Click here for more information on Genetics Counseling.
Cardio-oncology
MedStar Health started the first cardio-oncology program in the Greater Baltimore/Washington, D.C., metropolitan area nearly a decade ago to address the heart problems that can occur as a result of some cancer treatments. Our team, comprised of specialized cardiologists and oncologists, focus on the cardiovascular care of patients throughout their cancer journey.
Additional Services
Video gallery
In this video series, we'll review important information about chemotherapy treatment to help you understand more and know what to expect when coming in for your chemotherapy treatment. We hope you find these a useful part of the journey into survivorship.
Financial assistance
The cost of cancer care can be a significant financial burden. It is important to understand your insurance benefits and ask for help when you need it. Our financial counselors are trained to assist with any questions or concerns you may have about the cost of care, and can help determine if you may qualify for financial assistance.
Image services
Our image services are focused on helping cancer patients regain a positive self-image. Services include breast prosthesis, demonstrations of cosmetics, skin care treatments, and hair replacement, as well as wardrobe and makeup techniques. We also offer Look Good Feel Better , a free program from the American Cancer Society designed for women dealing with hair loss and skin changes from chemotherapy and radiation.
Integrative therapy
We offer a variety of integrative therapies to support the healing of the mind and body, including massage therapy and therapeutic yoga. These services are available at several MedStar Health Cancer Network locations.
Nutrition counseling
Advice from a dietitian can help you manage symptoms before, during, and after cancer treatment. Nutrition counseling helps patients optimize their treatment. Plus, good nutrition and healthy eating aid in recovery and help patients achieve and maintain a better quality of life.
In addition to one-on-one counseling, we offer oncology nutrition classes throughout the year providing tips and ideas on how to make healthy and delicious meals.
Psychosocial and pastoral counseling
Dealing with cancer requires a supportive team. Psychosocial and pastoral counseling provide patients and their families with support coping with the many issues beyond the physical that often accompany a cancer diagnosis.
Support groups and retreats
We regularly host a variety of support groups and retreats to provide individuals who are living with cancer, cancer survivors, and those who love them with the opportunity to share their experiences with others. These events are held at locations throughout the MedStar Cancer Network.
Survivorship planning and counseling
Our commitment to your health extends beyond your initial treatment. Many cancer survivors find the transition back to everyday medical care difficult after years spent under the care and guidance of cancer specialists. We work with you through this process and follow up with you on a regular basis after the completion of treatment to ensure your long-term health.
For additional resources and more information on survivorship, learn more from the National Cancer Institute
National Cancer Survivors Day Celebrations
Every year cancer survivors and supporters gather to celebrate and share their amazing stories of perseverance, courage, and inspiration. We are excited to share photos and videos of our annual celebrations. Click below to view.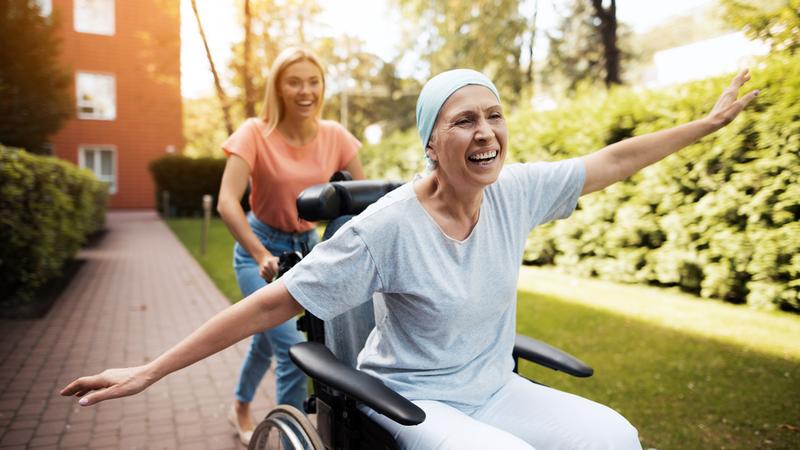 Clinical trials
Cancers of the bone and soft tissue can be complex to treat. Often, a clinical trial can provide a new option when other treatment options aren't the best solution for you. When you participate in a clinical trial you can get access to treatments years before they are available to the public.
Orthopedic cancer clinical trials are research studies that test the newest medical procedures or drugs to determine how safe and effective they are. These studies help to inform doctors and scientists about new and emerging cancer therapies, how they should be used, and which patients will benefit the most from these approaches.
The MedStar Health Research Institute conducts clinical investigations to improve the ability to diagnose and treat patients with orthopedic tumors. By participating in a clinical study at MedStar Health, you can not only play an active role in the treatment of your cancer, but possibly help others with orthopedic cancers in the future.
Because MedStar Health has an NCI-affiliated Cancer Center, we have access to the latest clinical trials available. Patients who participate in clinical trials receive, often at reduced or no cost:
The most advanced treatment options possible

Specialized, coordinated team-based care

An opportunity to be among the first to benefit from a new therapy

An opportunity to help future cancer patients
New hope for musculoskeletal tumors
Patients from all over the United States and the world seek the physicians at MedStar Health for their expertise in complex orthopedic tumor surgery. Our experts provide new hope for recovery with less impact to the healthy structures of the body.
It is a common misconception that, once cancer has appeared in or spread to the bones, there's little that can be done. In truth, with the advanced radiation, surgery, and systemic therapies provided by the MedStar Health Cancer Network, patients with orthopedic cancers can recover and lead a pain-free life. Because we treat such a high volume and variety of patients, we understand the tremendous variation in cancer diagnosis.
Amputation was once a common solution for orthopedic cancer. Even now, less advanced centers still opt to remove limbs or parts of limbs. We use the latest and most innovative methods—including methods our surgeons have pioneered— to treat your cancer in the least invasive manner possible. Our limb-salvage rate is 98%, giving our patients a better chance at a return to normal function following a musculoskeletal tumor.