Robotic-assisted Heart Surgery Comes to Washington, D.C.
If you are experiencing a medical emergency, please call 911 or seek care at an emergency room.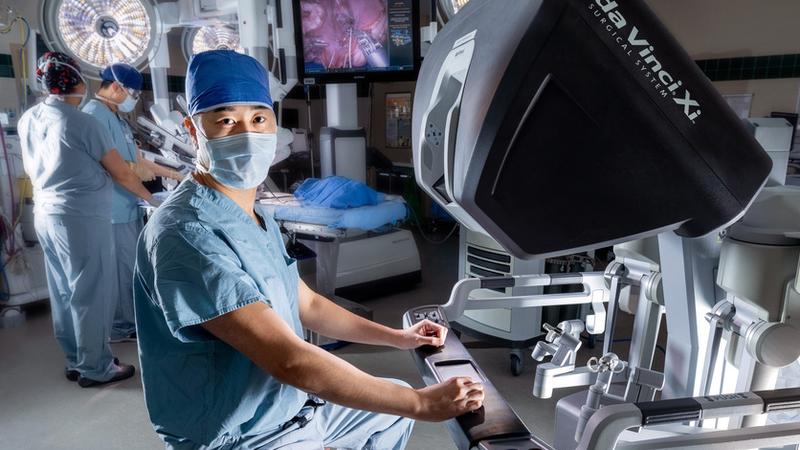 In an exciting and important step, MedStar Washington Hospital Center is pleased to offer robotic-assisted heart surgery to our patients. Sophisticated robotic equipment allows for safer and more effective heart surgery—without leaving a big scar in the middle of the chest or breaking through the breastbone.
Traditionally, heart surgery requires sternotomy, which means cutting through the sternum (breastbone) to open the patient's chest wall and access the heart.
The robotic-assisted approach makes the procedure the least invasive. The surgeon slips instruments between the ribs and chest wall through five small holes. Using a suite of controls to guide the instruments, we can readily visualize the target structure in the heart and perform precise operations, thanks to the high-resolution, three-dimensional robotic camera.
The benefits of robotic-assisted cardiac surgery are substantial. Patients experience:

Shorter hospital stays: Most patients go home within three to four days after the surgery.
Quicker recovery: Many patients can get back to their activities in about two weeks as opposed to two to three months with conventional sternotomy.
Fewer complications: Compared with other approaches, scientific researchers have shown that robotic heart surgery has lower mortality and fewer complications such as stroke, heart failure, wound infection, and kidney failure.
Less postoperative pain: Patients will not have as much pain with robotic-assisted heart surgery because damage to the patient's body is significantly reduced.
We have successfully performed more than 35 robotic-assisted heart procedures since April 2022, and patients have reported improved recovery, fewer complications, and great satisfaction.

A quick history of robotic-assisted surgery.
First used in California in the 1980s for prosthetic hip replacement surgery, robotic-assisted surgery has been offered at MedStar Washington Hospital Center to help treat prostate cancer since 2006. The technology has been used in many different services such as head and neck surgery, bariatric surgery, benign and malignant gynecology, urology, thoracic surgery, and general surgery.
Robotic-assisted procedures made up about 15% of all surgeries in the U.S. 2018, a significant increase from 1.8% in 2012, due in part to the minimally invasive benefits.
Cardiac surgery is the latest addition; it took longer to develop due to the delicate and complex nature of operating on the heart. The robotic instruments have a greater range of motion than human hands, which enables surgeons to perform very complex intracardiac procedures. The surgeon performs the procedure from the robotic console as two assistants work in close collaboration at the patient's bedside.
Working together with all experts on the dedicated team, we bring a range of expertise to each procedure, achieving better outcomes for our patients.
Related reading: Patient-focused Teamwork: Our Path to National Rankings for Cardiology and Heart Surgery.
Expanding services to benefit more patients.
Today, we apply robotic-assisted techniques to a wide variety of cardiac procedures, including mitral valve disease, coronary artery obstructions, tricuspid valve disease, atrial fibrillation, atrial septal defect, and cardiac tumors.
Robotic-assisted cardiac surgery is a significant advancement in treatment and another example of MedStar Health's longstanding commitment to clinical innovation and excellence for the benefit of our patients.
Are you in need of cardiac care?
Request an appointment with one of our experts today.
Stay up to date and subscribe to our blog