Radiation Oncology Therapy | Treatment | MedStar Health
The most advanced, targeted, and personalized radiation oncology therapies
Our team of highly experienced, specialized physicians is dedicated to providing personalized, high-quality radiation therapies for a wide range of conditions. We combine our medical expertise with state-of-the-art technology and access to the latest clinical research to deliver treatment options that can improve outcomes and your quality of life.
We cover the full continuum of care: from screening, prevention, research, diagnosis, and treatment, to a personalized cancer rehabilitation program created just for you.
Our goal is to help you heal and recover by providing a full suite of radiation oncology treatments at our ambulatory or hospital-based centers close to where you live and work.
About radiation therapy and treatment
Radiation therapy is a type of cancer treatment that uses beams of intense energy to kill cancer cells. This treatment can be delivered by a machine outside the body using external-beam radiation therapy, or it can come from radioactive material placed in the body near cancer cells using internal radiation therapy, called brachytherapy.
The type of radiation therapy you receive depends on your individual cancer treatment plan developed by your radiation oncology team.
Patient benefits
Our expert radiation oncologists can develop treatment plans with pinpoint accuracy by using the latest treatment planning technology to map precise tumor locations. This ensures that tumors get the most effective dose while sparing healthy tissues and organs.
Our wide range of sophisticated medical equipment allows us to treat tumors aggressively and also reduce some of the side effects of radiation treatment.
Treatments
Brachytherapy
Brachytherapy is also known as internal radiation therapy
We offer high-dose rates (HDR) and low-dose rates (LDR)
Brachytherapy involves placing radioactive "seeds" inside the body near a tumor. The tumor receives a dose of radiation while limiting the radiation exposure to healthy tissue.
CyberKnife (stereotactic radiosurgery)
CyberKnife robotic surgery is painless and does not require incisions
This radiation therapy uses a concentrated beam of photons (or X-rays) to target tumors anywhere in the body, while limiting exposure to nearby healthy tissue
Unlike conventional radiation therapy that may take multiple sessions, CyberKnife is complete after only a few treatments. For example, with CyberKnife, we can treat prostate cancer in five treatments versus 40 treatments.
The Edge radiosurgery system
Non-invasive alternative to conventional surgery
Targets tumors that are difficult to reach using conventional surgery
The Edge radiosurgery system offers a new line of defense in the fight against cancer. It delivers radiation to each part of the tumor from many different angles, minimizing the radiation dose to adjacent healthy tissue.
ZAP-X gyroscopic radiosurgery system
MedStar Health was the first healthcare organization on the East Coast, and third in the world, to offer ZAP-X gyroscopic stereotactic radiosurgery (SRS) for brain tumors
This novel technology is non-invasive, requiring no surgical incision. The procedure can be performed on an outpatient basis, often with little to no patient recovery time.
Halcyon image-guided radiotherapy (IMRT)
Halcyon is the latest linear accelerator
We are the first healthcare system to offer this novel therapy in the Maryland, Virginia, and Washington, D.C., region
Halcyon leading-edge technology precisely targets the tumor while providing treatment in half the time–and in an environment that's more comfortable than ever before.
Intraoperative radiation therapy (IORT)
An alternative for women with early-stage breast cancer
Delivered in a single dose
IORT is given following a partial mastectomy (lumpectomy) while the patient is still in the operating room.
Radiation therapy for pancreatic cancers
Combining surgery with intraoperative radiation therapy (IORT) can reduce the possibility of a pancreas tumor's return and help patients live longer. IORT is a focused radiation treatment given during surgery and applied directly to the targeted area or tumor, ensuring that normal surrounding tissue is spared.
The benefits of IORT include:
Lower recurrence rates: Researchers found that using IORT in pancreatic cancer patients during resection surgery was associated with longer survival times. One study found that IORT patients had a median survival of nearly one year more than those who did not receive IORT.
Safe treatment with fewer side effects: This advanced radiation treatment option is safe and effective when combined with surgery. It allows the radiologist greater and more direct access to the site of the cancer, sparing healthy tissue nearby.
Short treatment duration: IORT is completed in matter of minutes during surgery.
Treatment of advanced pancreatic malignancy: Patients with tumors that are more challenging to remove or close to critical structures.
Proton therapy with HYPERSCAN technology
We are the first and most experienced facility to offer proton therapy in the Washington, D.C., region
We are the first in the world to offer the most advanced proton therapy with HYPERSCAN technology (intensity modulated proton therapy--IMPT)
This highly advanced form of radiation treatment destroys cancer cells with protons, positively charged particles.
More precise than traditional radiation, proton therapy treatment targets tumors by matching their exact shape and size, sparing surrounding healthy tissue and resulting in fewer side effects. Proton therapy also reduces the potential for secondary cancers.
Full spectrum of treatment options
We also offer patients the variety of other treatment options listed below, each with its own unique benefits:
Advanced computerized treatment planning, image fusion, and verification systems
Conventional radiation therapy
Image-guided radiation therapy (IGRT)
Intensity modulated radiation therapy (IMRT)
Partial breast irradiation with both external beam therapy and brachytherapy
Positron emission tomography (PET) and computed tomography (CT) simulation
RapidArc volumetric arc therapy (VMAT)
Respiratory gating
State-of-the-art 4-D large-bore computerized tomography (CT) simulator
Total skin electron irradiation (TSEI), the region's only location for this type of treatment
Conditions
We are experts in helping patients with their treatment for the following cancers:
Brain tumors (acoustic neuroma, glioma [astrocytoma/ependymoma/oligodendroglioma], meningioma, pituitary adenoma, skull base tumors)

Brain cancer

Gastrointestinal cancer (anal, colon, esophageal, rectal, stomach, liver, pancreatic, peritoneal, small bowel)

Gynecological cancer (cervical, ovarian, vaginal, uterine, vulvar)

Pediatric cancer

Recurrent tumors

Sarcoma (ie, bone and soft tissue cancer)
A team approach to care
We have a team approach to cancer, with board-certified specialists in numerous disciplines. Our specialists use the most advanced therapies available, tailored to meet your needs--and improve the quality of your life. Our team includes:
Radiation oncology specialists
Medical oncology
Surgeons
Pathologists
Physicists
Radiologists
Radiation therapists
Dosimetrists
Nurses
Nurse navigators
Social workers
Administrative support staff
Care available through MedStar Georgetown Cancer Institute
MedStar Georgetown Cancer Institute combines medical expertise, the latest therapies, and research across MedStar Health. Georgetown Lombardi Comprehensive Cancer Center–the Washington, D.C., region's only National Cancer Institute-designated comprehensive cancer center–serves as our research engine. This partnership allows you access to cutting-edge clinical trials and the latest breakthroughs in cancer care.
Our nationally recognized doctors offer screening, prevention, research, diagnosis, treatment, personalized rehabilitation, and survivorship programs at multiple locations, close to where you live and work. Our experts specialize in the particular type of cancer you have, and work together to develop a customized care plan targeting your unique cancer. This often leads to better outcomes, and more importantly, hope.
Expert radiation oncology care
Getting the care you need starts with seeing one of our radiation oncology specialists.
More information
Clinical Partner to a National Cancer Institute-Comprehensive Cancer Center
MedStar Health is the clinical partner of Georgetown Lombardi Comprehensive Cancer Center, the only National Cancer Institute (NCI)-designated comprehensive cancer center in the Washington, D.C., region. It serves as our research engine.
This partnership allows patients to access the latest breakthroughs in cancer care. Of the 1,500+ cancer programs across the country, only 51 (or 3%) of those centers are awarded this prestigious designation.
By developing and testing new ways to combat cancer through cutting-edge clinical trials, we can discover breakthrough advancements designed to help our current and future patients.
The advantage of clinical trials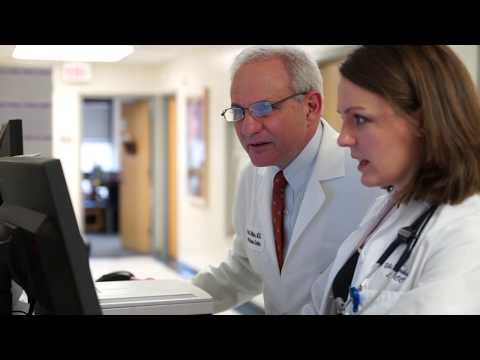 Research and education
Research innovations
Learn how our collaborative research accelerates treatment innovations and enhances patient outcomes.
MedStar Health Research Institute
MedStar Georgetown University Hospital Lombardi Comprehensive Cancer Center